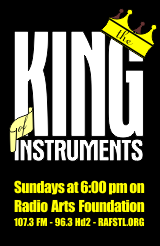 The King of Instruments is a one-hour show airing Sunday evenings at 6:00pm on Classic 107.3 FM in St. Louis. It is a joint production of the St. Louis AGO and the Organ Media Foundation. Hear it in the St. Louis region on 107.3 FM, 96.3 HD2, or you can listen online from anywhere in the world at Classic1073.org.
Email us your questions, suggetstion, requests, and comments at koi@kingofinstruments.show
Subscribe to our weekly calendar podcast.
Become a Friend of the King of Instruments and help keep organ music on the air. Full information available here.
If you're not in St. Louis, but interested in having the King of Instruments on the air where you are, please send us an email for more information!
Click here for Information about sponsoring a partial or entire episode of The King of Instruments. For any any other questions or comments about the show, please email koi@agostlouis.org.
Episode 211 – February 23, 2020
Our final birthday month celebration is the Great British Birthday show, celebrating the birthdays of Frank Bridge, Samuel Wesley, C.H.H. Parry, and G.F. Handel.
Hosts: Mark Scholtz, Bill Stein, Brent Johnson
Listen here:
Playlist
Title:
Allegro Marzial
Composer:
Frank Bridge
Organist:
Christopher Dearnley
Album:
EMI Great Cathedral Organ Series, Vol 2 – Amphion PHI CD 161
Organ:
1977 V/132 Willis/Mander, St. Paul's Cathedral, London, England
Sheetmusic:
Purchase sheetmusic
Title:
In Memoriam C.H.H. Parry
Composer:
Frank Bridge
Organist:
Todd Wilson
Album:
Frank Bridge and Friends – JAV 120
Organ:
1998 IV/71 Quimby, St. Margaret's Church, Palm Desert, California, USA
Title:
Adagio in E
Composer:
Frank Bridge
Organist:
Scott Montgomery
Album:
Inspirations From England – Regent REGCD309
Organ:
2001 III/53 Mander, St. Peter's Episcopal Church, St. Louis, Missouri, USA
Sheetmusic:
PDF
Purchase sheetmusic
Title:
Larghetto, Introduction and Fugue
Composer:
Samuel Wesley
Organist:
Paul Derrett
Album:
Benchmarks Vol 15 Isle of Man – Benchmarks
Organ:
c. 1870 I/0 Unknown, St. Mary's Roman Catholic Church, Castletown, Isle of Man
Title:
12 Short Pieces nos. 2 and 9
Composer:
Samuel Wesley
Organist:
Barbara Owen
Album:
Historic Organs of Maine – Organ Historical Society OHS-92
Organ:
1867 I/9 George Stevens/Andover, The Baptist Church, Blue Hill, Maine, USA
Title:
I was glad when they said unto me Choirs of St. Mary's Collegiate Church
Composer:
CHH Parry
Organist:
Mark Swinton
Album:
Gaudeamus Omnes – Regent REGCD461
Organ:
IV/84 Nicohlson, St. Mary's Collegiate Church, Warwick, England
Sheetmusic:
PDF
Purchase sheetmusic
Title:
Chorale Fantasia on an Old English Tune – When I survey the wondrous cross
Composer:
CHH Parry
Organist:
David Goode
Album:
A Parry Collection – Regent REGCD365
Organ:
1885 IV/63 Hill/Mander, Eton College Chapel, Windsor, England
Sheetmusic:
PDF
Title:
Jerusalem
Composer:
CHH Parry
Organist:
Ian Tracey
Album:
Liverpool Encores – Mirabilis MRCD901
Organ:
1923 V/181 Willis, Liverpool Cathedral, Liverpool, England
Sheetmusic:
Purchase sheetmusic
calendar
Title:
Chorale Prelude On Croft's 136th – O Ye Immortal Throng Of Angels Round The Throne
Composer:
CHH Parry
Organist:
James Warren
Album:
All Through the Night – Hymn Improvisations – Regent REGCD128
Organ:
1877 IV/68 Willis, Salisbury Cathedral, Salisbury, England
Sheetmusic:
PDF
Purchase sheetmusic
Title:
Organ Concerto in B-flat major, op. 7 no. 1
Composer:
GF Handel
Organist:
Ekaterina Melnikova
Album:
A Dance to the Music of Time – Bel Air Music BAM 2002
Organ:
1976 I/0 Tamburini, Saint Nicholas Cathedral (Choir Organ), Monaco-Ville, Monaco