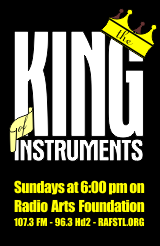 The King of Instruments is a one-hour show airing Sunday evenings at 6:00pm on Classic 107.3 FM in St. Louis. It is a joint production of the St. Louis AGO and the Organ Media Foundation. Hear it in the St. Louis region on 107.3 FM, 96.3 HD2, or you can listen online from anywhere in the world at rafstl.org.
Email us your questions, suggetstion, requests, and comments at koi@agostlouis.org
Subscribe to our weekly calendar podcast.
If you're not in St. Louis, but interested in having the King of Instruments on the air where you are, please send us an email for more information!
Click here for Information about sponsoring a partial or entire episode of The King of Instruments. For any any other questions or comments about the show, please email koi@agostlouis.org.
Become a Friend of the King of Instruments and help keep organ music on the air. Full information available here.
Episode 205 – January 12, 2020
Our second M-themed episode of the month brings us L'Orgue Mystique, the Mystical Organ.
Hosts: Mark Scholtz, Bill Stein, Brent Johnson
Listen here:
Playlist:
Title:
Fantaisie de l'Épiphanie (from Cycle de Noël, op. 55 de l'Orgue Mystique)
Composer:
Charles Tournemire
Organist:
André Marchal
Album:
Grandes Toccatas Pour Orgue – EMI 7243 5 75356 2 5
Organ:
1781 IV/37 Clicquot/Cavaille-Coll, Church of Saint Merry, Paris, France
Title:
From Cinq Improvisations – Cantilène improvisée
Composer:
Charles Tournemire
Organist:
John Ayer
Album:
Lyrique Mystique – Pro Organo CD 7125
Organ:
2002 IV/89 Berghaus, St. Stephen's Episcopal Church, Wilkes-Barre, Pennsylvania, USA
Sheetmusic:
Purchase sheetmusic
Title:
Songs of Creation
Songs of Damkatchim
Makai create the Earth
Juuit Makai and Sluuhu create Man and Woman
Dream Music
Creation of Animals
Hohokam – Animal Dance
Composer:
Jay Vosk
Organist:
Marijim Thoene
Album:
Mystics and Spirits – Raven OAR 680
Organ:
2000 III/38 Dobson, St. Joseph Abbey, St. Benedict, Louisiana, USA
Title:
The Mystery of Things The Proteus Ensemble, Stephen Shellard, Director
Composer:
Paul Fisher
Organist:
Richard Cook
Album:
The Mystery Of Things – Regent REGCD520
Organ:
2008 IV/66 Tickell, Worchester Cathedral (Quire Organ), Worcester, England
Title:
The Lake
Composer:
Paul Halley
Organist:
Dorothy Papadakos
Album:
Dorothy Over the Rainbow – Pro Organo CD7080
Organ:
1954 IV/139 Aeolian-Skinner, Cathedral of Saint John the Divine, New York City, New York, USA
Title:
Mystica, Suite di tre pezzi di Concerto per Organo, op. 133 – I. Noël
Composer:
Oreste Ravanello
Organist:
Domenico Severin
Album:
Oreste Ravanello – Organ Music – Rainbow RW20020133
Organ:
1940 II/60 Mascioni, Cathedral of St. Peter, Schio, Italy
calendar
Title:
L'Orgue Mystique, 23rd Sunday after Pentecost, op. 57 no. 51 – IV. Largo
Composer:
Charles Tournemire
Organist:
John Ayer
Album:
Lyrique Mystique – Pro Organo CD 7125
Organ:
2002 IV/89 Berghaus, St. Stephen's Episcopal Church, Wilkes-Barre, Pennsylvania, USA
Sheetmusic:
PDF
Purchase sheetmusic
Title:
Before the Image of a Saint
Composer:
Sigfrid Karg-Elert
Organist:
Charles Callahan
Album:
Invocation –
Organ:
1996 V/76 Turner, Church of the Holy Family, New York City, New York, USA
Title:
Neptune, The Mystic
Composer:
Gustav Holst
Organist:
Peter Sykes
Album:
The Planets – Raven OAR 380
Organ:
1933 IV/106 EM Skinner, Girard College Chapel, Philadelphia, Pennsylvania, USA
Sheetmusic:
Purchase sheetmusic