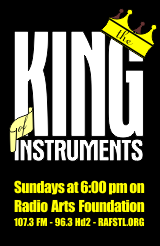 The King of Instruments is a one-hour show airing Sunday evenings at 6:00pm on Classic 107.3 FM in St. Louis. It is a joint production of the St. Louis AGO and the Organ Media Foundation. Hear it in the St. Louis region on 107.3 FM, 96.3 HD2, or you can listen online from anywhere in the world at rafstl.org.
Email us your questions, suggetstion, requests, and comments at koi@agostlouis.org
If you're not in St. Louis, but interested in having the King of Instruments on the air where you are, please send us an email for more information!
Click here for Information about sponsoring a partial or entire episode of The King of Instruments. For any any other questions or comments about the show, please email koi@agostlouis.org.
Become a Friend of the King of Instruments and help keep organ music on the air. Full information available here.
Episode 193 – October 20, 2019
This week we show we can do a completely random show, too. It's a random shuffle of music from our library.
Hosts: Mark Scholtz, Bill Stein, Brent Johnson
Listen here:
Playlist:
Title:
Fantaisie Sur Te Deum et Guirlandes alleluiatiques
Composer:
Charles Tournemire
Organist:
Joyce Jones
Album:
Joyce Jones at the organ of the Cadet Chapel United States Military Academy West Point, New York – Motette CD-11491
Organ:
1911 IV/325 Moller/Gress-Miles, Cadet's Chapel, West Point, New York, USA
Sheetmusic:
Purchase sheetmusic
Title:
Herzlich tut mich verlangen (BWV 244-53)
Composer:
JS Bach
Organist:
Albert Schweitzer
Album:
Der Organist – IFO IFO 00 701-06
Organ:
1718 III/73 Silbermann/Muhleisen, Sainte-Aurelie, Strasbourg, France
Title:
Praeambulum in D Minor (WV 33)
Composer:
Heinrich Scheidemann
Organist:
Karin Nelson
Album:
Heinrich Scheidemann Organ Works vol 2 – Naxos 8.554203
Organ:
1991 II/27 Brombaugh, Haga Church, Göteborg, Sweden
Sheetmusic:
PDF
Purchase sheetmusic
Title:
Rejoice in the Lamb, op. 30 – Rejoice in God, O ye Tongues Choir of St. John's College, Cambridge, Christopher Robinson, conductor
Composer:
Benjamin Britten
Organist:
Iain Farrington
Album:
English Choral Music : Benjamin Britten – Naxos 8.554791
Organ:
1994 IV/81 Mander, University of Cambridge, St. John's College, Cambridge, England
Sheetmusic:
Purchase sheetmusic
Title:
Grand-Choeur Dialogué
Composer:
Eugène Gigout
Organist:
Frederick Swann
Album:
The Riverside Years – Gothic G49082
Organ:
1964 V/204 Aeolian-Skinner, Riverside Church, New York City, New York, USA
Sheetmusic:
PDF
Purchase sheetmusic
Title:
Petite Suite in Blue – III. Scherzo
Composer:
Johannes Matthias Michel
Organist:
Johannes Matthias Michel
Album:
Colors of Pipe Organ Jazz – Ambiente ACD2015
Organ:
1911 IV/92 Steinmeyer/Lenter, Christ Church, Mannheim, Germany
Title:
March of the Templars Op. 56
Composer:
Julius Benedict
Organist:
Christopher Herrick
Album:
Organ Dreams – Hyperion CDA67060
Organ:
1954 IV/70 Harrison and Harrison, The Temple Church, London, England
Title:
Concerto in G major, op. 5 no. 1
Composer:
GF Handel
Organist:
Robert Burns King
Album:
Andover Organ Company Opus 111 Inaugural Recital – Andover AND101
Organ:
1999 III/38 Andover, University of North Carolina at Greensboro, Greensboro, North Carolina, USA
Title:
Hosanna, Loud Hosanna (ELLACOMBE)
Composer:
Michael Burkhardt
Organist:
Judy Congdon
Album:
Love So Amazing –
Organ:
1953 III/61 Holtkamp, Wesley Chapel, Houghton College, Houghton, New York, USA
Title:
Preludes on Lobe den Herren – Scherzo
Composer:
Herbert Bielawa
Organist:
Sandra Soderlund
Album:
Pipe Organ Adventures – Albany TROY374
Organ:
1964 IV/100 Aeolian-Skinner, Alice Millar Chapel, Northwestern University, Evanston, Illinois, USA
calendar
Title:
Naïades from Pièces de Fantaisie, 4e Suite, op. 55
Composer:
Louis Vierne
Organist:
Katelyn Emerson
Album:
Evocations – Pro Organo CD 7277
Organ:
1936 III/77 Aeolian-Skinner, Church of the Advent, Boston, Massachusetts, USA
Sheetmusic:
PDF
Purchase sheetmusic
Title:
Overture to The Merry Wives of Windsor
Composer:
Otto Nicolai
Organist:
Peter Richard Conte
Album:
Magic! – Gothic G49248
Organ:
1904 VI/457 Los Angeles Art Organ, Wanamaker Grand Court Organ, Philadelphia, Pennsylvania, USA