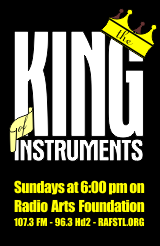 The King of Instruments is a one-hour show airing Sunday evenings at 6:00pm on Classic 107.3 FM in St. Louis. It is a joint production of the St. Louis AGO and the Organ Media Foundation. Hear it in the St. Louis region on 107.3 FM, 96.3 HD2, or you can listen online from anywhere in the world at rafstl.org.
Email us your questions, suggetstion, requests, and comments at koi@agostlouis.org
If you're not in St. Louis, but interested in having the King of Instruments on the air where you are, please send us an email for more information!
Click here for Information about sponsoring a partial or entire episode of The King of Instruments. For any any other questions or comments about the show, please email koi@agostlouis.org.
Become a Friend of the King of Instruments and help keep organ music on the air. Full information available here.
Episode 196 – November 10, 2019
We continue our monthly theme of the letter L with music written, transcribed, and performed by Edwin H. Lemare.
Hosts: Mark Scholtz, Bill Stein, Brent Johnson
Listen here:
Now you can subscribe to our weekly calendar Podcast.
Playlist:
Title:
Toccata and Fugue in D minor, op. 98
Composer:
Edwin H Lemare
Organist:
Thomas Murray
Album:
An evening with Edwin H Lemare – AFKA SK-515
Organ:
1927 V/102 Austin, The City Hall Auditorium, Portland, Maine, USA
Sheetmusic:
Purchase sheetmusic
Title:
Three dances from Henry VIII
Morris Dance
Shepherd's Dance
Torch Dance
Composer:
Edwin H Lemare
Organist:
Martin Setchell
Album:
A Taste of Shropshire – English Music from Ludlow – Quantum QM 7041
Organ:
1764 IV/52 Snetzler/JW Walker, St. Laurence's Church, Ludlow, England
Title:
From The West – I. In Missouri
Composer:
Edwin H Lemare
Organist:
Simon Nieminski
Album:
Alfred Hollins And Friends – Regent REGCD 473
Organ:
1947 IV/72 Moller/Reuter, Third Baptist Church, St. Louis, Missouri, USA
Sheetmusic:
PDF
Purchase sheetmusic
Title:
Irish Air from County Derry
Composer:
Edwin H Lemare
Organist:
Tom Trenney
Album:
Organ Ovations and Improvisations – Raven OAR 870
Organ:
2005 III/40 Murphy, St. Mark's Lutheran Church, Baltimore, Maryland, USA
Sheetmusic:
Purchase sheetmusic
Title:
Symphony no. 2 in D minor, op. 50 – III. Scherzo
Composer:
Edwin H Lemare
Organist:
Edwin H Lemare
Album:
The Britannic Organ, Vol 9 – Oehms OC 848
Organ:
1912 II/0 Welte, Museum of Mechanical Musical Instruments, Seewen, Switzerland
calendar
Title:
Andantino in D-flat
Composer:
Edwin H Lemare
Organist:
Simon Lindley
Album:
Town Hall Organ Classics – OxRecs OXCD-71
Organ:
1905 III/100 Abbot and Smith/Wordsworth, Leeds Town Hall, Leeds, England
Sheetmusic:
PDF
Purchase sheetmusic
Title:
Overture from Die Meistersinger von Nuremberg
Composer:
Richard Wagner
Organist:
Ken Cowan
Album:
Art of the Symphonic Organist, Vol 4 – JAV JAV369
Organ:
2004 V/155 Quimby, First Baptist Church, Jackson, Mississippi, USA
Sheetmusic:
Purchase sheetmusic