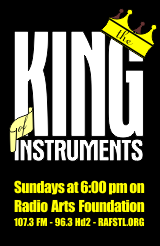 The King of Instruments was a one-hour show that aired Sunday evenings at 6:00pm on Classic 107.3 FM in St. Louis for 4 years. It was a joint production of the St. Louis AGO and the Organ Media Foundation.
Email us your questions, suggetstion, requests, and comments at koi@kingofinstruments.show
Subscribe to our weekly calendar podcast.
Become a Friend of the King of Instruments and help keep organ music on the air. Full information available here.
This month all the shows revolve around the letter N. For our first week, it's all New music (relatively speaking).
Hosts: Mark Scholtz, Bill Stein, Brent Johnson
Playlist
Title:
Laudate Dominum
Composer:
Philip Moore
Organist:
Maxine Thévenot
Album:
Prairie Sounds – Raven OAR-162
Organ:
1930 III/55 Casavant, Holy Rosary Cathedral, Regina, Saskatchewan, Canada
Composer:
Marco Lo Muscio
Organist:
Marco Lo Muscio
Album:
Great European Organs No 96 – Priory PRCD 1125
Organ:
1921 III/59 Matz and Luge, St. Bernard's Church, Baden-Baden, Germany
Title:
Heitere Spielmusik (GWV 569)
Composer:
Lothar Graap
Organist:
Carson Cooman
Album:
Orgelmusik II Von Lothar Graap –
Organ:
1973 IV/150 Marcussen and Son, Laurenskerk (Hauptwerk model), Rotterdam, Netherlands
Title:
Birthday Moods
Composer:
Paul Fisher
Organist:
Richard Cook
Album:
The Mystery Of Things – Regent REGCD520
Organ:
2008 IV/66 Tickell, Worchester Cathedral (Quire Organ), Worcester, England
Title:
Andante Sostenuto for TJYP
Composer:
Mark Blatchly
Title:
The Rev'd Mustard his Installation Prelude
Composer:
Nico Muhly
Organist:
Timothy Parsons
Album:
Timothy Parsons Plays The Organ Of Exeter Cathedral – Regent REGCD523
Organ:
1891 IV/72 Willis/Harrison and Harrison, Exeter Cathedral, Exeter, England
Title:
Jubilate Deo Choir of King's College, Cambridge, David Rowland, Director
Composer:
Annabel Rooney
Organist:
Gabriel Harley
Album:
As a seed bursts forth – Regent REGCD525
Organ:
1892 III/32 Binns/Harrison and Harrison, University of Cambridge, Queen's College Chapel, Cambridge, England
Title:
Tiento de Falsas
Composer:
Carson Cooman
Organist:
Erik Simmons
Album:
Portals – Divine Art DDA 25195
Organ:
1997 IV/111 Matthis, Pfarrkirche St. Peter and Paul (Hauptwerk Model), Gorlitz, Germany
Sheetmusic:
Purchase sheetmusic
calendar
Title:
Two Celtic Transcriptions – Danny Boy
Composer:
Paul Fisher
Organist:
Richard Cook
Album:
The Mystery Of Things – Regent REGCD520
Organ:
2008 IV/66 Tickell, Worchester Cathedral (Quire Organ), Worcester, England
Title:
The Dancing Pipes
Composer:
Jonathan Dove
Organist:
Alexander Ffinch
Album:
Transformations – Divine Art DDA 25193
Organ:
1897 III/45 Norman and Beard/Harrison and Harrison, Cheltenham College Chapel, Cheltenham, England
Sheetmusic:
Purchase sheetmusic