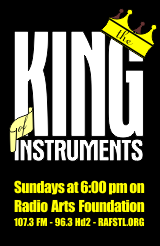 The King of Instruments is a one-hour show airing Sunday evenings at 6:00pm on Classic 107.3 FM in St. Louis. It is a joint production of the St. Louis AGO and the Organ Media Foundation. Hear it in the St. Louis region on 107.3 FM, 96.3 HD2, or you can listen online from anywhere in the world at Classic1073.org.
Email us your questions, suggetstion, requests, and comments at koi@kingofinstruments.show
Subscribe to our weekly calendar podcast.
Become a Friend of the King of Instruments and help keep organ music on the air. Full information available here.
This week we celebrate the birthday of Noel Mander by listening to organs built and rebuilt by his company.
Hosts: Mark Scholtz, Bill Stein, Brent Johnson
Playlist
Title: Rhapsody no. 3 in C-sharp minor
Composer: Herbert Howells
Organist: Gillian Weir
Album: The Grand Organ of The Royal Albert Hall – Priory PRCD 859
Organ: 1871 IV/78 Willis/Mander, Royal Albert Hall, London, England
Title: Voluntary in C, op. 5/1
Composer: John Stanley
Organist: Calvert Johnson
Album: Olde English – Calcante CD035
Organ: 1765 III/30 Byfield/Mander, St. Mary's Rotherhithe, London, England
Title: Prelude and Fugue in A major (BWV 536)
Composer: JS Bach
Organist: David Enlow
Album: Bach on Park Avenue – Pro Organo CD 7274
Organ: 1993 IV/91 Mander, St. Ignatius Loyola, New York City, New York, USA
Title: Postlude in D minor, op. 105 no.6
Composer: Charles Villiers Stanford
Organist: Magnus Williamson
Album: The Organs of Oxford, Vol 1 – OxRecs OXCD-41
Organ: 1984 II/29 Mander, Magdalen College Oxford, Oxford, England
Title: Benedictus, op. 59 no. 9
Composer: Max Reger
Organist: Andrew Lucas
Album: Organ Showpieces from Saint Paul Cathedral – Naxos 8.550955
Organ: 1977 V/132 Willis/Mander, St. Paul's Cathedral, London, England
calendar
Title: Cornet Voluntary
Composer: Joe Utterback
Organist: Andrew Shenton
Album: Utterbackanalia –
Organ: 1993 IV/91 Mander, St. Ignatius Loyola, New York City, New York, USA
Title: Trumpet Tune
Composer: Henry Purcell
Organist: Frederick Hohman
Album: The English Connection – Pro Organo CD 7029
Organ: 1969 II/38 Mander, Westminster College Chapel, Fulton, Missouri, USA
Title: Tu es Petrus, op. 23 no. 2
Composer: Charles-Marie Widor
Organist: William Aitken
Album: A Year in Saint Louis – Regent REGCD415
Organ: 2001 III/53 Mander, St. Peter's Episcopal Church, St. Louis, Missouri, USA
Title: Carillon de Westminster
Composer: Louis Vierne
Organist: Scott Montgomery
Album: Inspirations From England – Regent REGCD309
Organ: 2001 III/53 Mander, St. Peter's Episcopal Church, St. Louis, Missouri, USA