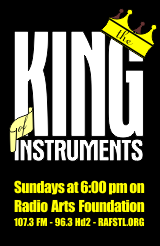 The King of Instruments is a one-hour show airing Sunday evenings at 6:00pm on Classic 107.3 FM in St. Louis. It is a joint production of the St. Louis AGO and the Organ Media Foundation. Hear it in the St. Louis region on 107.3 FM, 96.3 HD2, or you can listen online from anywhere in the world at Classic1073.org.
Email us your questions, suggetstion, requests, and comments at koi@kingofinstruments.show
Subscribe to our weekly calendar podcast.
Become a Friend of the King of Instruments and help keep organ music on the air. Full information available here.
This week we continue our observance of the season of Advent. We hear settings of In Dulci Jubilo, as well as the entire Sonata of Prayer and Praise by American composer Seth Bingham.
Hosts: Mark Scholtz, Bill Stein, Brent Johnson

Playlist
Title: In dulci jubilo (BuxWV 197)
Composer: Dieterich Buxtehude
Organist: David Lamb
Album: A Joyous Yuletide Journey –
Organ: 1994 II/22 Schantz, First Presbyterian Church, Jeffersonville, Indiana, USA
Sheetmusic: PDF Purchase sheetmusic
Title: Chorale Improvisation on In Dulci Jubilo
Composer: Paul Manz
Organist: Michael Stairs
Album: A Longwood Gardens Christmas, Vol 3 – DTR 9102
Organ: 1929 IV/146 Aeolian, Longwood Gardens, Kennett Square, Pennsylvania, USA
Sheetmusic: Purchase sheetmusic
Title: In dulci jubilo
Composer: Fridolin Sicher
Organist: Georg Koch
Album: Freiburger Orgelbuch – Carus 18.075/99
Organ: 1994 III/29 Weber, St. Ursula, Villingen, Germany
Sheetmusic: Purchase sheetmusic
Title: Improvvisazioni su In dulci jubilo
Composer: Sergio Militello
Organist: Sergio Militello
Album: In Dulci Jubilo – Musiche Organistche per il S Natale – Rugginenti Editore RUS 553099.2.jpg
Organ: 1935 III/73 Mascioni, Cathedral of the Assumption, Savona, Italy
Title: Variations on In Dulci Jubilo
Composer: Denis Bédard
Organist: Lucienne L'Heureux-Arel
Album: Historic Organs of Montréal – Organ Historical Society OHS-99
Organ: 1995 II/49 Guilbault-Therien/Wilhelm, Eglise Saint-Leon, Montréal, Quebec, Canada
Title: Postludium on In dulci jubilo
Composer: Leo Sowerby
Organist: William Partridge
Album: The Diocese of Missouri Sings for Christmas – CCC-1210
Organ: 1965 IV/70 Aeolian-Skinner, Christ Church Cathedral, St. Louis, Missouri, USA
calendar
Title: Pastoral Psalms, op. 30 – Voice of the Tempest
Composer: Seth Bingham
Organist: Christopher Marks
Album: Organ Music of Seth Bingham, Vol 1 – Raven OAR 990
Organ: 1998 IV/95 Schoenstein, First-Plymouth Congregational Church, Lincoln, Nebraska, USA
Title: Sonata of Prayer and Praise, op. 60
I. Prelude to Worship
II. Rapid Lyric
III. Christmas Meditation
IV. Finale

Composer: Seth Bingham
Organist: Christopher Marks
Album: Organ Music of Seth Bingham, Vol 3 – Raven OAR 992
Organ: 1998 IV/95 Schoenstein, First-Plymouth Congregational Church, Lincoln, Nebraska, USA
Interview with Christopher Marks on At The Organ
Listen here: