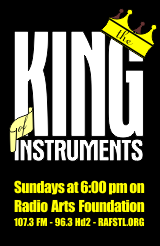 The King of Instruments is a one-hour show airing Sunday evenings at 6:00pm on Classic 107.3 FM in St. Louis. It is a joint production of the St. Louis AGO and the Organ Media Foundation. Hear it in the St. Louis region on 107.3 FM, 96.3 HD2, or you can listen online from anywhere in the world at Classic1073.org.
Email us your questions, suggetstion, requests, and comments at koi@kingofinstruments.show
Subscribe to our weekly calendar podcast.
Become a Friend of the King of Instruments and help keep organ music on the air. Full information available here.
This week we take you live to Webster Groves Presbyterian Church for the 2017 St. Louis AGO Member's Recital held on Monday, September 25. This was the opening program for the 2017-2018 season.
Hosts: Mark Scholtz, Bill Stein, Brent Johnson
Listen here:
All works performed on the Gress-Miles organ of Webster Groves Presbyterian, recently enlarged by R.A. Colby and Robert Walker.
Title: Opening Improvisation
Organist: Ted Cronbaugh
Title: Finale, Première Symphony, op. 14 no. 1
Composer: Louis Vierne
Organist: Jennifer Spohr
Title: Psalm Prelude (paraphrase of Psalm 40:1-3)
Composer: Craig Philips
Organist: Shawn Portell
Title: Fanfare and Gothic March
Composer: Guy Weitz
Title: Psalm No. 1, Set 1
Composer: Herbert Howells
Organist: Ted Cronbaugh
Title: Toccata on A Mighty Fortress
Composer: Austin Lovelace
Organist: Wesley Kassulke
Title: 24 Pièces de fantasie: Troisième Suite, op. 53
II. Impromptu
Title: 24 Pièces de fantasie: Deuxième Suite, op. 54
V. Claire de lune
VI. Toccata
Composer: Louis Vierne
Organist: Nick Bideler
The entire uncut concert can be heard here: