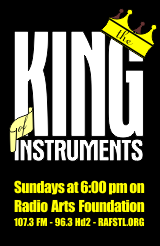 The King of Instruments was a one-hour show that aired Sunday evenings at 6:00pm on Classic 107.3 FM in St. Louis for 4 years. It was a joint production of the St. Louis AGO and the Organ Media Foundation.
Email us your questions, suggetstion, requests, and comments at koi@kingofinstruments.show
Subscribe to our weekly calendar podcast.
Become a Friend of the King of Instruments and help keep organ music on the air. Full information available here.
This week marks the anniversary of Felix Mendelssohn's first trip to London. He made many trips there and became a favorite composer of Queen Victoria. This week we explore some of Mendelssohn's music, that of his contemporaries, and some British organs.
Hosts: Mark Scholtz, Bill Stein, Brent Johnson
This episode has been sponsored by Lisa Cripe and Webster Groves Christian Church. Their worship services are currently streamed on Facebook Live on Sunday mornings at 10:30 am and video posted on the Webster Groves Christian Church Facebook page.
Playlist:
Title:
The War March of the Priests from 'Athalie'
Composer:
Felix Mendelssohn
Organist:
Thomas Trotter
Album:
The Grand Organ of Birmingham Town Hall – Hyperion CDA66216
Organ:
1837 V/112 Hill/Mander, Birmingham Town Hall, Birmingham, England
Sheetmusic:
PDF
Purchase sheetmusic
Title:
The War March of the Priests from 'Athalie'
Composer:
Felix Mendelssohn
Organist:
Thomas Trotter
Album:
The Grand Organ of Birmingham Town Hall – Hyperion CDA66216
Organ:
1837 V/112 Hill/Mander, Birmingham Town Hall, Birmingham, England
Sheetmusic:
PDF
Purchase sheetmusic
Title:
Allegro, Choral and Fugue in D minor
Composer:
Felix Mendelssohn
Organist:
Angela Kraft Cross
Album:
Felix Mendelssohn – A 200th Birthday Album – Compass Audio CA7125
Organ:
1801 III/20 Pike, St. Margaret Lothbury, London, England
Title:
Voluntary in E-flat
Composer:
William Sterndale Bennett
Organist:
Robert James Stove
Album:
Pax Britannica – Organ music by Victorian and Edwardian composers – Ars Organi AOR002
Organ:
1998 III/40 Kenneth Jones, Trinity College Chapel, University of Melbourne, Melbourne, Australia
Title:
The Hebrides Overture, op. 26
Composer:
Felix Mendelssohn
Organist:
Roger Fisher
Album:
Edwin H Lemare Symphony No 1 and other romantic rarities – JAV JAV 128A
Organ:
1930 IV/63 EM Skinner/Thompson-Allen, St. Peter's Episcopal Church, Morristown, New Jersey, USA
Sheetmusic:
PDF
calendar
Title:
Prelude
Composer:
Fanny Mendelssohn
Organist:
Joanne Vollendorf
Album:
Historic Organs of Michigan – OHS OHS-95
Organ:
1892 II/22 Jardine, Trinity Episcopal, Detroit, Michigan, USA
Title:
Postlude in D
Composer:
Henry Thomas Smart
Organist:
Eric Plutz
Album:
Denver Jubilee – Pro Organo CD7254
Organ:
1938 IV/96 Kimball, St. John's Cathedral, Denver, Colorado, USA
Sheetmusic:
Purchase sheetmusic
Title:
Sonata No 2 in C Minor, op. 65, No 2
Composer:
Felix Mendelssohn
Organist:
John Scott
Album:
Mendelssohn Music for Organ – Hyperion CDD22029
Organ:
1977 V/132 Willis/Mander, St. Paul's Cathedral, London, England
Sheetmusic:
PDF
Purchase sheetmusic