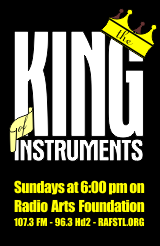 The King of Instruments was a one-hour show that aired Sunday evenings at 6:00pm on Classic 107.3 FM in St. Louis for 4 years. It was a joint production of the St. Louis AGO and the Organ Media Foundation.
Email us your questions, suggetstion, requests, and comments at koi@kingofinstruments.show
Subscribe to our weekly calendar podcast.
Become a Friend of the King of Instruments and help keep organ music on the air. Full information available here.
We wrap up our N-themed month with an hour of New Releases. Stay in and hear some recently released organ CDs!
Hosts: Mark Scholtz, Bill Stein, Brent Johnson
Playlist:
Opening Music
Title:
Grand March from Aida trans. Harry Rowe Shelley
Composer:
Giuseppe Verdi
Title:
Coronation March trans. George John Bennett
Composer:
Peter Ilyich Tchaikovsky
Organist:
Jan Kraybill
Album:
The Orchestral Organ – Reference RR-145
Organ:
2011 IV/102 Casavant, Kauffman Center for the Performing Arts, Kansas City, Missouri, USA
Title:
Romance from Symphony IV
Composer:
Louis Vierne
Organist:
Martin Setchell
Album:
Resounding Aftershocks – Pipeline Press PP2
Organ:
1997 III/42 Rieger, Christchurch Town Hall, Christchurch, New Zealand
Sheetmusic:
PDF
Purchase sheetmusic
Title:
Suite for Accordion and Organ – II. First Waltz Markku Lepistö, Accordion
Composer:
Markku Lepistö
Organist:
Mikko Helenius
Album:
Bellows and Pipes – Rapusaari Records RAPU003
Organ:
1963 II/16 Kangasalan Urkutehdas, Käpylä church, Helsinki, Finland
Title:
Im Abendrot from Four Last Songs arr. Robert Parkins
Composer:
Richard Strauss
Organist:
Robert Parkins
Album:
Salome's Dance – Loft LRCD 1147
Organ:
1932 IV/91 Aeolian, Duke Chapel, Duke University, Durham, North Carolina, USA
Title:
Benedicite in G The Choir of York Minster, Robert Sharpe, Director
Composer:
Francis Jackson
Organist:
Benjamin Morris
Album:
Beatam – Music Written for the Choir of York Minster – Regent REGCD522
Organ:
1960 IV/103 JW Walker, York Minster, York, England
Sheetmusic:
Purchase sheetmusic
Title:
Voluntary no. 10 in G major
Composer:
William Russell
Organist:
Thomas Trotter
Album:
From Palaces to Pleasure Gardens – Regent REGCD526
Organ:
1735 III/62 Richard Bridge/William Drake, Christ Church, Spitalfields, England
Sheetmusic:
PDF
Title:
Oriental Sketch, op. 41 no. 5
Composer:
Arthur Foote
Organist:
Jens Korndörfer
Album:
Windows of the Spirit – Organum OGM191036
Organ:
1969 IV/108 Moller/Klais, First Presbyterian Church, Atlanta, Georgia, USA
Sheetmusic:
Purchase sheetmusic
Title:
Variations sur Sine Nomine
Composer:
Denis Bedard
Organist:
Maxine Thévenot
Album:
Prairie Sounds – Raven OAR-162
Organ:
1930 III/55 Casavant, Holy Rosary Cathedral, Regina, Saskatchewan, Canada
Sheetmusic:
Purchase sheetmusic