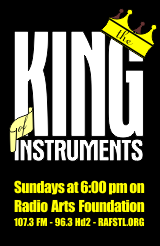 The King of Instruments was a one-hour show that aired Sunday evenings at 6:00pm on Classic 107.3 FM in St. Louis for 4 years. It was a joint production of the St. Louis AGO and the Organ Media Foundation.
Email us your questions, suggetstion, requests, and comments at koi@kingofinstruments.show
Subscribe to our weekly calendar podcast.
Become a Friend of the King of Instruments and help keep organ music on the air. Full information available here.
On the 80th anniversary of the death of Charles-Marie Widor, we hear some of his works that maybe aren't as popular as the famous Toccata.
Hosts: Mark Scholtz, Bill Stein, Brent Johnson
Playlist
Title: Septième Symphonie en la mineur, op. 42 no. 3 – I. Moderato
Composer: Charles-Marie Widor
Organist: Gilles Rioux
Album: Widor – Complete Organ Symphonies – XXI XXI-CD 2 1720
Organ: 1964 IV/114 Casavant, Basilica Notre-Dame-du-Cap, Cap-de-la-Madeleine, Quebec, Canada
Title: Symphony no. 8, op. 42 no. 4 – II. Moderato cantabile
Composer: Charles-Marie Widor
Organist: Ben van Oosten
Album: Charles-Marie Widor Complete Organ Works Vol 5 – MDG
Organ: 1890 IV/64 Cavaillé-Coll, L'abbatiale Saint-Ouen, Rouen, France
Title: Symphonie pour grand orgue no. 8 en si majeur, op. 42 no. 4 – V. Variations
Composer: Charles-Marie Widor
Organist: Stephen Tharp
Album: Legendary Organ Works, Volume One – Ethereal ER-108
Organ: 1933 IV/106 EM Skinner, Girard College Chapel, Philadelphia, Pennsylvania, USA
Title: Trois Nouvelles Pieces, op. 87 – Mystique
Composer: Charles-Marie Widor
Organist: David M Patrick
Album: Great European Organs No 28 – Priory PRCD 731
Organ: 1969 IV/59 Walker, Blackburn Cathedral, Blackburn, England
calendar
Title: Quatrième Symphonie en fa mineur, op. 13 no. 4 – II. Fugue
Composer: Charles-Marie Widor
Organist: Jean-Guy Proulx
Album: Widor – Complete Organ Symphonies – XXI XXI-CD 2 1720
Organ: 1921 IV/74 Casavant/Guilbault-Thérien, St.Germain Cathedral, Rimouski, Quebec, Canada
Title: March américaine Op. 31
Composer: Charles-Marie Widor
Organist: Christopher Herrick
Album: Organ Fireworks – XI – Hyperion CDA67577
Organ: 1992 IV/82 CB Fisk, Meyerson Symphony Center, Dallas, Texas, USA
Title: Symphonie Romane 4. Final Allegro
Composer: Charles-Marie Widor
Organist: David Fuller
Album: Charles-Marie Widor – Loft LRCD1014
Organ: 1990 III/59 CB Fisk, Slee Hall, State University of New York, Buffalo, New York, USA