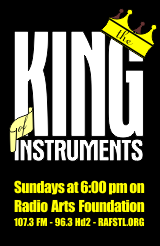 The King of Instruments is a one-hour show airing Sunday evenings at 6:00pm on Classic 107.3 FM in St. Louis. It is a joint production of the St. Louis AGO and the Organ Media Foundation. Hear it in the St. Louis region on 107.3 FM, 96.3 HD2, or you can listen online from anywhere in the world at Classic1073.org.
Email us your questions, suggetstion, requests, and comments at koi@kingofinstruments.show
Subscribe to our weekly calendar podcast.
Become a Friend of the King of Instruments and help keep organ music on the air. Full information available here.
On the 80th anniversary of the death of Charles-Marie Widor, we hear some of his works that maybe aren't as popular as the famous Toccata.
Hosts: Mark Scholtz, Bill Stein, Brent Johnson
Playlist
Title: Septième Symphonie en la mineur, op. 42 no. 3 – I. Moderato
Composer: Charles-Marie Widor
Organist: Gilles Rioux
Album: Widor – Complete Organ Symphonies – XXI XXI-CD 2 1720
Organ: 1964 IV/114 Casavant, Basilica Notre-Dame-du-Cap, Cap-de-la-Madeleine, Quebec, Canada
Title: Symphony no. 8, op. 42 no. 4 – II. Moderato cantabile
Composer: Charles-Marie Widor
Organist: Ben van Oosten
Album: Charles-Marie Widor Complete Organ Works Vol 5 – MDG
Organ: 1890 IV/64 Cavaillé-Coll, L'abbatiale Saint-Ouen, Rouen, France
Title: Symphonie pour grand orgue no. 8 en si majeur, op. 42 no. 4 – V. Variations
Composer: Charles-Marie Widor
Organist: Stephen Tharp
Album: Legendary Organ Works, Volume One – Ethereal ER-108
Organ: 1933 IV/106 EM Skinner, Girard College Chapel, Philadelphia, Pennsylvania, USA
Title: Trois Nouvelles Pieces, op. 87 – Mystique
Composer: Charles-Marie Widor
Organist: David M Patrick
Album: Great European Organs No 28 – Priory PRCD 731
Organ: 1969 IV/59 Walker, Blackburn Cathedral, Blackburn, England
calendar
Title: Quatrième Symphonie en fa mineur, op. 13 no. 4 – II. Fugue
Composer: Charles-Marie Widor
Organist: Jean-Guy Proulx
Album: Widor – Complete Organ Symphonies – XXI XXI-CD 2 1720
Organ: 1921 IV/74 Casavant/Guilbault-Thérien, St.Germain Cathedral, Rimouski, Quebec, Canada
Title: March américaine Op. 31
Composer: Charles-Marie Widor
Organist: Christopher Herrick
Album: Organ Fireworks – XI – Hyperion CDA67577
Organ: 1992 IV/82 CB Fisk, Meyerson Symphony Center, Dallas, Texas, USA
Title: Symphonie Romane 4. Final Allegro
Composer: Charles-Marie Widor
Organist: David Fuller
Album: Charles-Marie Widor – Loft LRCD1014
Organ: 1990 III/59 CB Fisk, Slee Hall, State University of New York, Buffalo, New York, USA