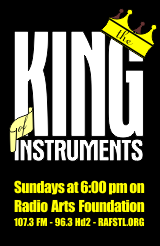 The King of Instruments is a one-hour show airing Sunday evenings at 6:00pm on Classic 107.3 FM in St. Louis. It is a joint production of the St. Louis AGO and the Organ Media Foundation. Hear it in the St. Louis region on 107.3 FM, 96.3 HD2, or you can listen online from anywhere in the world at Classic1073.org.
Email us your questions, suggetstion, requests, and comments at koi@kingofinstruments.show
Subscribe to our weekly calendar podcast.
Become a Friend of the King of Instruments and help keep organ music on the air. Full information available here.

Bill and Mark are still away on vacation this weekend, so Brent Johnson will be playing some live performances recorded by the Organ Media Foundation this year.
Host: Brent Johnson

Listen here:



Organ Media Foundation's YouTube channel
Playlist
Title: Improvisation on ENGELBERG
Composer: Dan Miller
Organist: Dan Miller
Organ: 2014 IV/59 Reuter, Cathedral of the Immaculate Conception, Springfield, Illinois, USA
Recorded live in concert May 1, 2018
Title: Trumpet Tune
Composer: Robert Lau
Organist: Bill Stein
Organ: 2013 III/76 Casavant, First Presbyterian Church, Kirkwood, Missouri, USA
Sheetmusic: Purchase sheetmusic
Recorded May 9, 2018 for Organ Media YouTube video.
Title: Rubrics – IV. And the Peace may be exchanged…
Composer: Dan Locklair
Organist: Mark Pacoe
Organ: 2014 II/27 Martin Ott, Peace Lutheran Church, St. Louis, Missouri, USA
Sheetmusic: Purchase sheetmusic
Recorded live in concert January 26, 2018
Title: Toccata from 24 Pièces de Fantaisie, op. 53 no. 6
Composer: Louis Vierne
Organist: Leah Martin
Organ: 2014 IV/46 Kegg, Bryn Athyn Cathedral, Bryn Athyn, Pennsylvania, USA
Sheetmusic: PDF Purchase sheetmusic
Recorded live in concert July 10, 2018
Title: Prelude and Double Fugue
Composer: Gaston Litaize
Organist: Aaron Patterson
Organ: 2014 IV/46 Kegg, Bryn Athyn Cathedral, Bryn Athyn, Pennsylvania, USA
Sheetmusic: Purchase sheetmusic
Recorded live in concert July 10, 2018
Title: Segundo Libro do Organo: Hommage á Guillaume de Machaut
I. Introitus
IV. Lamentatio II

Composer: Gustavo Delgado Parra
Organist: David Furniss
Organ: 2007 III/47 Dobson, St. David's Episcopal Church, Wayne, Pennsylvania, USA
Recorded live in concert July 11, 2018
Title: Introduktion and Passacaglia
Composer: Max Reger
Organist: Caroline Robinson
Organ: 2007 III/47 Dobson, St. David's Episcopal Church, Wayne, Pennsylvania, USA
Sheetmusic: PDF Purchase sheetmusic
Recorded live in concert July 11, 2018
Title: Two Verses of Meinen Jesum lass ich nicht
Composer: Johann Gottfried Walther
Sheetmusic: PDF
Title: The Battle of Trenton: II. Washington's March
Composer: James Hewitt
Sheetmusic: PDF
Organist: Philip T.D. Cooper
Organ: 1770 I/IX Tannenberg, Zion Lutheran Church, Moselem Springs, Pennsylvania, USA
Recorded July 10, 2018
Title: Animal Parade
III. Barrel organ monkey
VII. Sparrows
IX. Cheetah

Composer: Ian Farrington
Organist: Shelly Moorman-Stahlman
Organ: 2017 III/44 C.B. Fisk, Christ Church (Episcopal), Philadelphia, Pennsylvania, USA
Sheetmusic: Purchase sheetmusic
Recorded live in concert July 12, 2018
Title: Prelude on Sine Nomine
Composer: John Weaver
Organist: Monica Czausz
Organ: 1933 IV/106 EM Skinner, Girard College Chapel, Philadelphia, Pennsylvania, USA
Recorded live in concert July 8, 2018