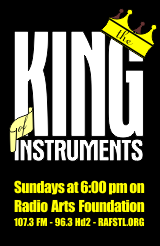 The King of Instruments is a one-hour show airing Sunday evenings at 6:00pm on Classic 107.3 FM in St. Louis. It is a joint production of the St. Louis AGO and the Organ Media Foundation. Hear it in the St. Louis region on 107.3 FM, 96.3 HD2, or you can listen online from anywhere in the world at rafstl.org.
Email us your questions, suggestions, requests, and comments at koi@agostlouis.org
If you're not in St. Louis, but interested in having the King of Instruments on the air where you are, please send us an email for more information!
All of us are away on vacation this weekend, so we're filling the hour with the entire Goldberg Variations of J.S. Bach as performed by Stephen Tharp on the Fritts organ at St. Joseph Cathedral in Columbus, Ohio.
Hosts:
Mark Scholtz, Bill Stein, Brent Johnson
Playlist
Title:
Goldberg Variations – Complete (BWV 988)
Aria
Variatio 1. a 1 Clav.
Variatio 2. a 1 Clav.
Variatio 3. Canone all'Unisono. a 1 Clav.
Variatio 4. a 1 Clav.
Variatio 5. a 1 ô vero 2 Clav.
Variatio 6. Canone alla Seconda. a 1 Clav.
Variatio 7. a 1 ô vero 2 Clav. al tempo di Giga
Variatio 8. a 2 Clav.
Variatio 9. Canone alla Terza. a 1 Clav.
Variatio 10. Fughetta. a 1 Clav.
Variatio 11. a 2 Clav.
Variatio 12. a 1 Clav. Canone alla Quarta in moto contrario
Variatio 13. a 2 Clav.
Variatio 14. a 2 Clav.
Variatio 15. Canone alla Quinta. a 1 Clav.: Andante
Variatio 16. Ouverture. a 1 Clav.
Variatio 17. a 2 Clav.
Variatio 18. Canone alla Sesta. a 1 Clav.
Variatio 19. a 1 Clav.
Variatio 20. a 2 Clav.
Variatio 21. Canone alla Settima
Variatio 22. a 1 Clav. alla breve
Variatio 23. a 2 Clav.
Variatio 24. Canone all'Ottava. a 1 Clav.
Variatio 25. a 2 Clav.: Adagio
Variatio 26. a 2 Clav.
Variatio 27. Canone alla Nona. a 2 Clav.
Variatio 28. a 2 Clav.
Variatio 29. a 1 ô vero 2 Clav.
Variatio 30. a 1 Clav. Quodlibet
Aria da Capo
Composer: JS Bach
Organist: Stephen Tharp
Album: Stephen Tharp plays The Goldberg Variations – JAV JAV 172
Organ: 2006 III/91 Fritts, St. Joseph Cathedral, Columbus, Ohio, USA
Sheetmusic: PDF Purchase sheetmusic