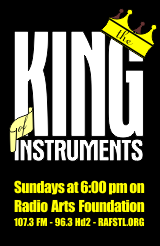 The King of Instruments is a one-hour show airing Sunday evenings at 6:00pm on Classic 107.3 FM in St. Louis. It is a joint production of the St. Louis AGO and the Organ Media Foundation. Hear it in the St. Louis region on 107.3 FM, 96.3 HD2, or you can listen online from anywhere in the world at rafstl.org.
Email us your questions, suggetstion, requests, and comments at koi@agostlouis.org
Charles Hubert Humphrey Parry died 100 years ago on October 7, 1918. Today we remember him with hymns and organ works by Parry, as well as his students Gustav Holst and John Ireland.
Hosts:
Mark Scholtz, Bill Stein, Brent Johnson
Playlist:
Title:
Jerusalem
Composer:
CHH Parry
Organist:
Ian Tracey
Album:
Liverpool Encores – Mirabilis MRCD901
Organ:
1923 V/181 Willis, Liverpool Cathedral, Liverpool, England
Sheetmusic:
Purchase sheetmusic
Title: Chorale Prelude – Melcombe
Composer: CHH Parry
Organist: James Lancelot
Album: The Complete Organ Works of Sir Hubert Parry – Priory 682AB
Organ: 1970 IV/98 Willis/Harrison and Harrison, Durham Cathedral, Durham, England
Sheetmusic: PDF Purchase sheetmusic
Title: The Old 104th (Chorale Preludes)
Composer: CHH Parry
Organist: Christopher Dearnley
Album: Romantic Organ Music in Saint Paul Cathedral London –
Organ: 1977 V/132 Willis/Mander, St. Paul's Cathedral, London, England
Sheetmusic: PDF Purchase sheetmusic
Title: Chorale Fantasia on The Old Hundredth
Composer: CHH Parry
Organist: Robert Benjamin Dobey
Album: The Wanderer – Pro Organo CD 7059
Organ: 1933 IV/106 EM Skinner, Girard College Chapel, Philadelphia, Pennsylvania, USA
Sheetmusic: PDF
Title: Chaconne
Composer: Gustav Holst
Organist: Paul Derrett
Album: Benchmarks Vol 1 Cheltenham – Benchmarks Records 806801CD
Organ: 1887 IV/53 Hill/Nicholson, All Saint's Church, Cheltenham, England
Title: Greater Love Hath No Man Choir of Winchester Cathedral
Composer: John Ireland
Organist: George Castle
Album: A Winchester Remembrance – Regent REGCD437
Organ: 1851 IV/108 Willis/Harrison and Harrison, Winchester Cathedral, Winchester, England
Sheetmusic: Purchase sheetmusic
calendar
Title: Prayer
Composer: Ben Parry
Organist: Edmund Aldhouse
Album: A Year at Ely – Regent REGCD441
Organ: 2001 IV/95 Harrison and Harrison, Ely Cathedral, Ely, England
Title: Toccata and Fugue in G (The Wanderer)
Composer: CHH Parry
Organist: David Goode
Album: A Parry Collection – Regent REGCD365
Organ: 1885 IV/63 Hill/Mander, Eton College Chapel, Windsor, England
Sheetmusic: Purchase sheetmusic
Title: Dear Lord and Father of mankind (Repton) Choir of King's College, Cambridge
Composer: CHH Parry
Organist: Stephen Cleobury
Album: Best Loved Hymns – EMI Classics CD-57026
Organ: 1934 IV/75 Harrison and Harrison, University of Cambridge, King's College Chapel, Cambridge, England