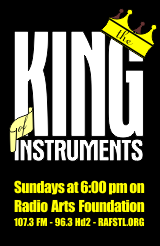 The King of Instruments is a one-hour show airing Sunday evenings at 6:00pm on Classic 107.3 FM in St. Louis. It is a joint production of the St. Louis AGO and the Organ Media Foundation. Hear it in the St. Louis region on 107.3 FM, 96.3 HD2, or you can listen online from anywhere in the world at rafstl.org.
Email us your questions, suggetstion, requests, and comments at koi@agostlouis.org
Today we explore the music of three influential composers whose deaths all happened on this week in history, Giovanni Gabrielli, Vincent Persichetti, and Leoš Janáček.
Hosts:
Mark Scholtz, Bill Stein
Organ Media Foundation's YouTube channel
Playlist
Introduction
Title:
Fuga del nono tono
Composer:
Giovanni Gabrieli
Organist:
Liuwe Tamminga
Album:
500 Years of Organ Music, Disc 6 – Brilliant Classics 95310
Organ:
1596 I/10 Malamini/Tamburini, Basilica of San Petronio, Bologna, Italy
Title: Canzon Primo Tono
Composer: Giovanni Gabrieli
Organist: Luigi Ferdinando Tagliavini and Liuwe Tamminga
Album: 500 Years of Organ Music, Disc 6 – Brilliant Classics 95310
Organ:
Title: Intonation for Organ on the 9th tone, In ecclesiis
Composer: Giovanni Gabrieli
Organist: E Power Biggs
Album: The Glory of Gabrieli – Sony Classical 82876-78762-2
Organ:
Title: Canzon Septimi Toni – No. 2 The King's Brass
Composer: Giovanni Gabrieli
Organist: Rebecca Kleintop-Owens
Album: The Best of Brass and Organ – Summit 403
Organ: 1974 IV/117 Ruffatti, Coral Ridge Presbyterian Church, Fort Lauderdale, Florida, USA
Title: Jauchzet dem Herrn, alle Welt Robert Vanryne, Trumpet
Composer: Heinrich Schütz
Organist: Christoph Andreas Schäfer
Album: Trompete und Orgel 1 – Glanz des festlichen Barock – Spektral SRL4-13063
Organ: 2000 III/20 Vleugels, Christ Church, Tumlingen, Germany
Title: Ricercare del primo tono
Composer: Andrea Gabrieli
Organist: Luigi Ferdinando Tagliavini
Album: 500 Years of Organ Music, Disc 6 – Brilliant Classics 95310
Organ: 1470 I/9 Prato, Basilica of San Petronio, Bologna, Italy
Title: Shimah B'Koli
Composer: Vincent Persichetti
Organist: Kent Tritle
Album: Saint Ignatius Loyola, New York City – Gothic G49068
Organ: 1993 IV/91 Mander, St. Ignatius Loyola, New York City, New York, USA
Title: Chorale Prelude on Drop, Drop Slow Tears
Composer: Vincent Persichetti
Organist: David Heller
Album: Blasts from the Century Past – Pro Organo CD 7197
Organ: 1987 III/85 Rosales, Trinity Episcopal Church, Portland, Oregon, USA
Sheetmusic: Purchase sheetmusic
Title: Organ Solo from Glagolitic Mass
Composer: Leoš Janáček
Organist: Christopher Herrick
Album: Organ Fireworks – XI – Hyperion CDA67577
Organ: 1992 IV/82 CB Fisk, Meyerson Symphony Center, Dallas, Texas, USA