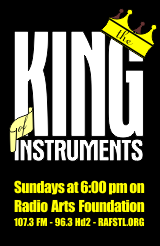 The King of Instruments is a one-hour show airing Sunday evenings at 6:00pm on Classic 107.3 FM in St. Louis. It is a joint production of the St. Louis AGO and the Organ Media Foundation. Hear it in the St. Louis region on 107.3 FM, 96.3 HD2, or you can listen online from anywhere in the world at rafstl.org.
Email us your questions, suggetstion, requests, and comments at koi@agostlouis.org
July is here, and this month everything revolves around the letter D. This evening we hear from German, Austrian, and Czech composers whose names all start with the letter D.
Hosts:
Mark Scholtz, Bill Stein, Brent Johnson
Playlist
Title:
Sonata no. 2 in G minor, op. 11
I. Allegro Moderato
II. Adagio
Finale – Allegro

Composer: Otto Dienel
Organist: Edward Zimmerman
Album: Germania: German Romantic Works of Otto Dienel Vol 2 – AFKA SK553
Organ: 1851 III/48 E and GG Hook/Andover, Cathedral Church of St. John, Providence, Rhode Island, USA
Title: Orgelpartita – Wachet auf ruft uns die Stimme, op. 8 no. 2
I. Toccata
II. Bicinuim
III. Fuge

Composer: Hugo Distler
Organist: Faythe Freese
Album: Roaring Ranks – Arkay AR6176
Organ: 1998 III/81 Glatter-Gotz/Rosales, United Church of Christ, Congregational, Claremont, California, USA
Sheetmusic: Purchase sheetmusic
calendar
Title: Chorale Preludes, Op. 52 – Nun ruhen all Wälder
Composer: Otto Dienel
Organist: Edward Zimmerman
Album: Germania: German Romantic Works of Otto Dienel Vol 2 – AFKA SK553
Organ: 1866 II/25 E and GG Hook/Andover, South Congregational Parish, Augusta, Maine, USA
Sheetmusic: Purchase sheetmusic
Title: Partita in C major
I. Intrada
III. Capriccio
IV. Canzona

Composer: Josef-Friedrich Doppelbauer
Organist: Mary Preston
Album: At the Meyerson – Gothic G 49094
Organ: 1992 IV/82 CB Fisk, Meyerson Symphony Center, Dallas, Texas, USA
Title: Symphony From The New World – Finale
Composer: Antonin Dvorak
Organist: Stuart Forster
Album: Great Organbuilders of America: A Retrospective, Vol 8 – JAV JAV113
Organ: 1931 IV/76 EM Skinner, Cathedral of Our Lady, Queen of the Most Holy Rosary, Toledo, Ohio, USA