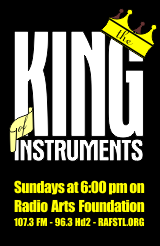 The King of Instruments is a one-hour show airing Sunday evenings at 6:00pm on Classic 107.3 FM in St. Louis. It is a joint production of the St. Louis AGO and the Organ Media Foundation. Hear it in the St. Louis region on 107.3 FM, 96.3 HD2, or you can listen online from anywhere in the world at rafstl.org.
Email us your questions, suggetstion, requests, and comments at koi@agostlouis.org
Subscribe to our weekly calendar podcast.
This week we pick up where we left off last week with Sigfrid Karg-Elert, and listen to other chorale settings of his, as well as music of his German contemporaries Max Reger, Paul Lincke, and Josef-Gabriel Rhienberger.
Hosts: Mark Scholtz, Bill Stein, Brent Johnson

Playlist
Title: Choralvorspiel Schmücke dich, o liebe Seele, op. 65
Composer: Sigfrid Karg-Elert
Organist: Dominique Sauer
Album: Die neue Kuhn-Orgel im Dom zu Osnabrück – Organum Musikproduktion OGM 240062
Organ: 2003 III/57 Kuhn, Cathedral of St. Peter, Osnabrück, Germany
Sheetmusic: PDF Purchase sheetmusic
Title: Jesu, geh' voran from Choral Improvisations, op. 65 no. 56
Composer: Sigfrid Karg-Elert
Organist: Harry Wilkinson
Album: Girard – the Definitive Recording, Vol 2 – Pro Organo CD 7144
Organ: 1933 IV/106 EM Skinner, Girard College Chapel, Philadelphia, Pennsylvania, USA
Sheetmusic: PDF Purchase sheetmusic
Title: Two Chorale-preludes – Mach Hoch Die Tur, op. 65 no. 8
Composer: Sigfrid Karg-Elert
Organist: Thomas Murray
Album: Great Organbuilders of America: A Retrospective Vol 14 – JAV JAV124
Organ: 1928 IV/197 EM Skinner, Woolsey Hall, Yale University, New Haven, Connecticut, USA
Sheetmusic: PDF
Title: The Reed-Grown Waters – from Seven Pastels, op. 96 no. 4
Composer: Sigfrid Karg-Elert
Organist: Richard Elliott
Album: In the Shadows of the Everlasting Hills – Pro Organo CD 7036
Organ: 1947 V/206 Aeolian-Skinner/Schoenstein, Mormon Tabernacle, Salt Lake City, Utah, USA
Sheetmusic: PDF Purchase sheetmusic
Title: Jesus ist kommen, op. 67 no. 51
Composer: Max Reger
Organist: Martin Welzel
Album: Max Reger Organ Works Volume 10 – Naxos 8.570960
Organ: 1974 IV/100 Klais, Trier Cathedral, Trier, Rhineland-Palatinate, Germany
Sheetmusic: PDF Purchase sheetmusic
Title: Chorale Prelude On O Gott, Du Frommer Gott, op. 67 no. 30
Composer: Max Reger
Organist: James Warren
Album: How Brightly Shines the Morning Star – Regent REGCD164
Organ: 1962 IV/95 Harrison and Harrison, Coventry Cathedral, Coventry, England
Sheetmusic: PDF Purchase sheetmusic
Title: Dankpsalm, op. 145 no. 2
Composer: Max Reger
Organist: Stephen Z Cook
Album: Festive And Fun! – Towerhill Recordings TH-72012
Organ: 2005 III/39 Buzard, Williamsburg Presbyterian Church, Williamsburg, Virginia, USA
Sheetmusic: PDF Purchase sheetmusic
calendar
Title: Eleven Choral Preludes, op. 122 – Gott, Du Frommer Gott, no. 7
Composer: Johannes Brahms
Organist: Peter Latona
Album: An Organ Pilgrimage – Raven OAR 560
Organ: 1987 II/26 Schudi, Basilica of the National Shrine of the Immaculate Conception (Crypt Organ), Washington, DC, USA
Sheetmusic: PDF Purchase sheetmusic
Title: Glühwürmchen-Idyll
Composer: Paul Lincke
Organist: Ursula Hauser
Album: Die leichte Muse und die Königin der Instrumente – Querstand VKJK 0820
Organ: 1988 IV/98 Kleuker-Steinmeyer, Tonhalle, Zurich, Switzerland
Title: Sonata e-Moll op. 132, no. 8 – IV. Passacaglia, Molto moderato
Composer: Josef Gabriel Rheinberger
Organist: Gerhard Weinberger
Album: Papst-Benedikt-Orgel – Spektral SRL4-06002
Organ: 2006 II/40 Mathis, Collegiate Church, Regensburg, Germany
Sheetmusic: PDF