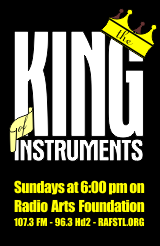 The King of Instruments is a one-hour show airing Sunday evenings at 6:00pm on Classic 107.3 FM in St. Louis. It is a joint production of the St. Louis AGO and the Organ Media Foundation. Hear it in the St. Louis region on 107.3 FM, 96.3 HD2, or you can listen online from anywhere in the world at Classic1073.org.
Email us your questions, suggetstion, requests, and comments at koi@kingofinstruments.show
Subscribe to our weekly calendar podcast.
Become a Friend of the King of Instruments and help keep organ music on the air. Full information available here.
Episode 208 marks the beginning of our 5th year on the air in St. Louis! To celebrate, we have a show full of birthday events. Charles Brenton Fisk, Paul Jacobs, Louis Marchand, Felix Mendelssohn, Jehan Alain, and Aristide Cavaillé-Coll all have birthdays in the first week of February!
Hosts: Mark Scholtz, Bill Stein, Brent Johnson
Playlist
Title:
March for a Joyous Occasion
Composer:
Conrad Susa
Organist:
David Higgs
Album:
David Higgs premieres the CB Fisk Organ of the Meyerson Symphony Center, Dallas – Delos DE 3148
Organ:
1992 IV/82 CB Fisk, Meyerson Symphony Center, Dallas, Texas, USA
Sheetmusic:
Purchase sheetmusic
Title:
Trois Pièces pour Orgue
I. Prélude
III. Improvisation
Composer:
Nadia Boulanger
Organist:
Paul Jacobs
Album:
Divine Redeemer – Naxos 8.573524
Organ:
2010 IV/116 Schantz, Church of the Gesu, Milwaukee, Wisconsin, USA
Sheetmusic:
PDF
Title:
Dialogue in C major
Composer:
Louis Marchand
Organist:
Wolfgang Rübsam
Album:
Soli Deo Gloria – The Reddel Memorial Organ – VUCA Media VMCD1004
Organ:
1959 IV/101 Schlicker/Dobson, Valparaiso University Chapel, Valparaiso, Indiana, USA
Sheetmusic:
PDF
Title:
A Quaker Reader – There is a Spirit that Delights to Do No Evil
Composer:
Ned Rorem
Organist:
Timothy Olsen
Album:
Timothy Olsen Organ Recital – Naxos 8.557218
Organ:
1983 III/58 CB Fisk, Downtown United Presbyterian Church, Rochester, New York, USA
Sheetmusic:
Purchase sheetmusic
Title:
Sonata in A major, op. 65 no. 3
Composer:
Felix Mendelssohn
Organist:
Alison J Luedecke
Album:
A Rudolph von Beckerath Retrospective – Raven OAR 610
Organ:
1962 IV/93 Beckerath, St. Paul's Cathedral, Pittsburgh, Pennsylvania, USA
Sheetmusic:
PDF
Purchase sheetmusic
calendar
Title:
Fugue in f minor
Composer:
Felix Mendelssohn
Organist:
Walter Hilse
Album:
Great Organbuilders of America A Retrospective, Vol 3 – JAV JAV103
Organ:
1938 IV/91 Aeolian-Skinner, St. Paul's Chapel, Columbia University, New York City, New York, USA
Sheetmusic:
Purchase sheetmusic
Title:
Variations sur un thème de Clément Jannequin (JA 118)
Composer:
Jehan Alain
Organist:
Jean-Baptiste Robin
Album:
Alain – Complete Organ Works – Brilliant Classics 94233
Organ:
2004 III/79 Aubertin, Saint-Louis-en-l'Ile, Paris, France
Title:
Marche Pontificale from Symphonie no.1, op.13
Composer:
Charles-Marie Widor
Organist:
Stephen Tharp
Album:
Stephen Tharp at St. Sulpice – JAV JAV130
Organ:
1862 V/128 Cavaillé-Coll, Church of St. Sulpice, Paris, France
Sheetmusic:
PDF
Purchase sheetmusic