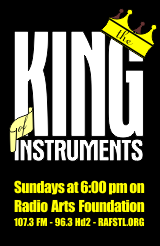 The King of Instruments is a one-hour show airing Sunday evenings at 6:00pm on Classic 107.3 FM in St. Louis. It is a joint production of the St. Louis AGO and the Organ Media Foundation. Hear it in the St. Louis region on 107.3 FM, 96.3 HD2, or you can listen online from anywhere in the world at rafstl.org.
Email us your questions, suggetstion, requests, and comments at koi@agostlouis.org
This month's episodes are all focused on the letter I, and we begin with an hour of Improvisation.
Hosts:
Mark Scholtz, Bill Stein, Brent Johnson
Playlist:
Composer:
Improvisation
Organist:
Gerre Hancock
Album:
Fanfare – Gothic 49038
Organ:
1956 IV/158 Aeolian-Skinner, St. Thomas Church, Fifth Avenue (Chancel), New York City, New York, USA
Title: Improvisation on Ave Maris Stella
Composer: David Briggs
Organist: David Briggs
Album: Resurrectio – JAV
Organ: 1997 III/38 Letourneau, Holy Trinity R.C. Church, New York, New York, USA
Title: Improvisation on the Magnificat du huitième ton
Composer: Olivier Latry
Organist: Olivier Latry
Album: Resurrectio – JAV
Organ: 1864 V/153 Cavaille-Coll, Notre-Dame Cathedral, Paris, France
Title: Hymn Tune – St. Clement (The Day Thou Gavest)
Composer: Improvisation
Organist: Gerre Hancock
Album: Fanfare – Gothic 49038
Organ: 1956 IV/158 Aeolian-Skinner, St. Thomas Church, Fifth Avenue (Chancel), New York City, New York, USA
Title: Prelude on The Conventry Carol
Composer: Anthony Hammond
Organist: Anthony Hammond
Album: French Masterworks and Improvisations – Raven OAR-961
Organ: 1962 IV/95 Harrison and Harrison, Coventry Cathedral, Coventry, England
Title: A symphony – III. Scherzo
Composer: Gerre Hancock
Organist: Gerre Hancock
Album: From Ashes To Glory – Pro Organo CD 7250
Organ: 1954 IV/151 Aeolian-Skinner/Quimby, Cathedral of St. John the Divine, New York City, New York, USA
Title: Romance A ma compagne de vie et mere de des deux enfante Edith Duffour
Composer: Hubert Haye
Organist: Hubert Haye
Album: Improvisations – Grand Orgue de Notre Dame de Chatou –
Organ: 1878 IV/40 Abbey/Ayer, Notre Dame de l'Assomption, Chatou, France
Title: Improvisation on the Te Deum
Composer: Charles Tournemire
Organist: Maurice Durufle
Album: Maurice and Marie-Madeleine Durufle at Christ Church Cathedral, St. Louis, Missouri – Aeolian-Skinner Legacy AS 322
Organ: 1965 IV/70 Aeolian-Skinner, Christ Church Cathedral, St. Louis, Missouri, USA
Sheetmusic: Purchase sheetmusic