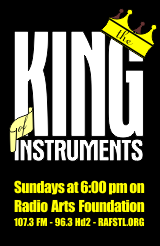 The King of Instruments is a one-hour show airing Sunday evenings at 6:00pm on Classic 107.3 FM in St. Louis. It is a joint production of the St. Louis AGO and the Organ Media Foundation. Hear it in the St. Louis region on 107.3 FM, 96.3 HD2, or you can listen online from anywhere in the world at rafstl.org.
Email us your questions, suggetstion, requests, and comments at koi@agostlouis.org
This week's episode is a rebroadcast of episode 169 which was released in April, but did not air on the radio. So this we ask once again, "Who needs an orchestra?".
Hosts:
Mark Scholtz, Bill Stein, Brent Johnson
Playlist:
Title:
March of the Toys
Composer:
Victor Herbert
Organist:
Robert Cundick and John Longhurst
Album:
A Tabernacle Organ Duo Extravaganza – Argo 430426-2
Organ:
1947 V/206 Aeolian-Skinner/Schoenstein, Mormon Tabernacle, Salt Lake City, Utah, USA
Title: Hebrides Ouverture (Fingal's Cave)
Composer: Felix Mendelssohn
Organist: Frederick Hohman
Album: Symphomania – Pro Organo CD 7077
Organ: 1998 IV/95 Schoenstein, First-Plymouth Congregational Church, Lincoln, Nebraska, USA
Sheetmusic: PDF
Title: Trumpet Tune and Air
Composer: Henry Purcell
Organist: Geoffrey Revell
Album: Classical Organ Music at Saint Patricks, Fremantle, Australia – Applecross APC003
Organ: 1988 IV/109 Bellsham/South Island, St. Patrick's Church, Fremantle, Australia
Title: Elegy, op. 58
Composer: Edward Elgar
Organist: Damin Spritzer
Album: Rhapsodies and Elegies – Raven OAR-156
Organ: 1892 IV/76 Willis/Harrison and harrison, Hereford Cathedral, Hereford, England
Sheetmusic: Purchase sheetmusic
Title: Imperial March, op. 32
Composer: Edward Elgar
Organist: Thomas Murray
Album: The Longwood Gardens Organ, Volume 1 – Direct-To-Tape DTR8305CD
Organ: 1929 IV/146 Aeolian, Longwood Gardens, Kennett Square, Pennsylvania, USA
Sheetmusic: PDF Purchase sheetmusic
calendar
Title: Prélude, op. 28 no. 4
Composer: Frederic Chopin
Organist: Olivier Latry
Album: Voyages – Transcriptions pour Orgue – Erato 0190295888503
Organ: 2015 IV/100 Rieger, Philharmonie de Paris, Paris, France
Title: Toccata op 11
Composer: Sergei Prokofiev
Organist: Thomas Trotter
Album: The Grand Organ of Birmingham Town Hall – Hyperion CDA66216
Organ: 1837 V/112 Hill/Mander, Birmingham Town Hall, Birmingham, England
Title: Les Preludes
Composer: Franz Liszt
Organist: Thomas Murray
Album: The Transcriber's Art – Gothic G49054
Organ: 1928 IV/197 EM Skinner, Woolsey Hall, Yale University, New Haven, Connecticut, USA
Sheetmusic: Purchase sheetmusic