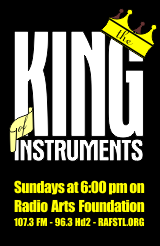 The King of Instruments is a one-hour show airing Sunday evenings at 6:00pm on Classic 107.3 FM in St. Louis. It is a joint production of the St. Louis AGO and the Organ Media Foundation. Hear it in the St. Louis region on 107.3 FM, 96.3 HD2, or you can listen online from anywhere in the world at rafstl.org.
Email us your questions, suggetstion, requests, and comments at koi@agostlouis.org
For the month of November, everything is geared toward the letter F. We start with one of the towering figures in French organ music, César Franck.
Hosts:
Mark Scholtz, Bill Stein, Brent Johnson
Playlist:
Title:
Six Pieces, V. Pastorale, op. 19
Composer:
César Franck
Organist:
Michael Murray
Album:
Cesar Franck, Complete Masterworks for Organ – Telarc CD-80234
Organ:
1888 III/54 Cavaillé-Coll, Basilica of St. Sernin, Toulouse, France
Sheetmusic:
PDF
Purchase sheetmusic
Title: Prélude, Fugue et Variation, op. 18
Composer: César Franck
Organist: Marie-Claire Alain
Album: Franck – Great Organ Works – Erato 0630-12706-2
Organ: 1885 III/65 Cavaille-Coll, Saint-Etienne, Caen, France
Sheetmusic: PDF Purchase sheetmusic
Title: Piece Heroique
Composer: César Franck
Organist: Jeanne Demessieux
Album: Cesar Franck Organ Works Vol 1 – Londone STS 15103
Organ: 1846 IV/82 Cavaillé-Coll, Eglise de la Madeleine, Paris, France
Sheetmusic: PDF Purchase sheetmusic
Title: Trois Pièces – Cantabile
Composer: César Franck
Organist: Jean Langlais
Album: The Complete Organ Works of César Franck – GIA CD-272
Organ: 1859 III/74 Cavaillé-Coll/Beuchet-Debierre, Ste. Clotilde, Paris, France
Sheetmusic: PDF Purchase sheetmusic
calendar
Title: Sonata no. 1 in F minor – II. Adagio
Composer: Felix Mendelssohn
Organist: Stephen Tharp
Album: Mendelssohn Organ Sonatas – Naxos 8.553583
Organ: 1983 II/27 Casavant, St. Clement Church, Chicago, Illinois, USA
Sheetmusic: PDF Purchase sheetmusic
Title: Panis Angelicus Chuck Seipp, Trumpet
Composer: César Franck
Organist: Mary Mozelle
Album: The Wedding Book, Ceremonial Music for Trumpet and Organ –
Organ: 1968 IV/104 Aeolian-Skinner, National Presbyterian Church, Washington, DC, USA
Title: Choral No 1 en mi majeur
Composer: César Franck
Organist: Lynne Davis
Album: Musique Pour Cathedrales – Quantum dQM 6998
Organ: 1971 IV/98 Danion-Gonzalez/Cicchero, Cathedrale Notre-Dame, Chartres, France
Sheetmusic: PDF Purchase sheetmusic