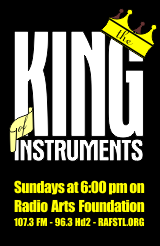 The King of Instruments is a one-hour show airing Sunday evenings at 6:00pm on Classic 107.3 FM in St. Louis. It is a joint production of the St. Louis AGO and the Organ Media Foundation. Hear it in the St. Louis region on 107.3 FM, 96.3 HD2, or you can listen online from anywhere in the world at rafstl.org.
Email us your questions, suggetstion, requests, and comments at koi@agostlouis.org
For Today is the day our clocks spring forward, and while it's not officially spring, yet, we're bursting forth today with music for the season.
Hosts:
Mark Scholtz, Mary Beth Wittry, Brent Johnson
Playlist:
Title:
Echoes of Spring
Composer:
Rudolph Friml
Organist:
Jason Alden
Album:
The Art of Two Manuals – Raven OAR 911
Organ:
2000 II/25 Reuter, Our Lady of the Lake Catholic Church, Rockwall, Texas, USA
Title: Taiwanese Suite – Hills In The Springtime
Composer: Chelsea Chen
Title: Melodies from Japan – Haruga Kita (Spring Has Come) Lewis Wong, Violin
Composer: Teiichi Okano
Organist: Chelsea Chen
Album: Eastern Treasures – Con Brio CBR21141
Organ: 2004 IV/45 Garland, Brentwood Trail Presbyterian Church, Dallas, Texas, USA
Sheetmusic: Purchase sheetmusic
Title: Spring Song
Composer: Alfred Hollins
Organist: Paul Derrett
Album: Benchmarks Vol 6 Folkestone and Hythe – Benchmarks Records 806806CD
Organ: ca. 1870 III/22 Walker/Willis, St. Peter and St. Paul, Saltwood, England
Sheetmusic: PDF
Title: Chorale, Cantilena and Finale
Composer: William Lloyd Webber
Organist: Paul Derrett
Album: Benchmarks Vol 11 East Northamptonshire – Benchmarks Records 806811CD
Organ: 1875 IV/40 Hill and Son/Canter, United Reformed Church, Wellingborough, England
Title: Harmonies of Florence, op. 27 -Primavera
Composer: Seth Bingham
Organist: Thomas Murray
Album: The Longwood Gardens Organ, Volume 1 – Direct-To-Tape DTR8305CD
Organ: 1929 IV/146 Aeolian, Longwood Gardens, Kennett Square, Pennsylvania, USA
Title: Caprice in B-flat, op. 20 no. 3
Composer: Felix-Alexandre Guilmant
Organist: Jan Kraybill
Album: Organ Polychrome – Reference RR-133
Organ: 2011 IV/102 Casavant, Kauffman Center for the Performing Arts, Kansas City, Missouri, USA
Sheetmusic: PDF Purchase sheetmusic
Title: On hearing the first cuckoo in spring
Composer: Frederick Delius
Organist: Thomas Murray
Album: The Transcriber's Art – Gothic
Organ: 1928 IV/197 EM Skinner, Woolsey Hall, Yale University, New Haven, Connecticut, USA
calendar
Title: Sonata no. 3 in G major, op. 88 – I. Pastorale
Composer: Josef Gabriel Rheinberger
Organist: Bruce Stevens
Album: Josef Rheinberger Organ Sonatas, Vol 1 – Raven OAR 140
Organ: 1871 III/55 E and GG Hook, St. Mary's Church, New Haven, Connecticut, USA
Sheetmusic: PDF Purchase sheetmusic
Title: To Spring op. 43, no. 6
Composer: Edvard Grieg
Organist: Virgil Fox
Album: The Art Of Virgil Fox – EMI Classics CDM 5 65426 2 4
Organ: 1964 V/204 Aeolian-Skinner, Riverside Church, New York City, New York, USA
Sheetmusic: Purchase sheetmusic
Title: Danse under åben himmel – I. Danses i forårsregnen (syren og guldredn)
Composer: Flemming Friis
Organist: Helge Gramstrup
Album: Contemporary Danish Organ Music – OTR CD1013
Organ: 1967 III/41 Andersen, Sankt Markus Kirke, Aarhus, Denmark