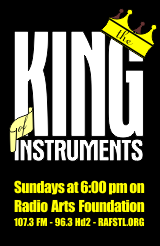 The King of Instruments is a one-hour show airing Sunday evenings at 6:00pm on Classic 107.3 FM in St. Louis. It is a joint production of the St. Louis AGO and the Organ Media Foundation. Hear it in the St. Louis region on 107.3 FM, 96.3 HD2, or you can listen online from anywhere in the world at rafstl.org.
Email us your questions, suggetstion, requests, and comments at koi@agostlouis.org
We start off our second year of The King of Instruments and the month of February with Music from long ago in England.
Hosts:
Mark Scholtz, Bill Stein, Brent Johnson
Playlist:
Intro
Title:
Dr. Blow's Voluntary
Composer:
John Blow
Organist:
Calvert Johnson
Album:
Olde English – Calcante CD035
Organ:
1766 I/6 Byfield, Finchcocks Museum of Music, Kent, England
Sheetmusic:
Purchase sheetmusic
Title: Ricercar no. 3 a 1 toni in D minor
Composer: Alessandro Poglietti
Organist: Gustav Leonhardt
Album: Historic Organs of Austria – Sony Classical SK 68262
Organ: 1636 III/56 Freundt, Basilica of Chorherrenstift, Klosterneuburg, Austria
Title: Voluntary in C, op. 5/1
Composer: John Stanley
Organist: Calvert Johnson
Album: Olde English – Calcante CD035
Organ: 1765 III/30 Byfield/Mander, St. Mary's Rotherhithe, London, England
Sheetmusic: PDF Purchase sheetmusic
Title: Fancy in Gamut Flatt
Composer: Orlando Gibbons
Organist: Paul Plummer
Album: The Organs of Eton College, Vol 1 – OxRecs OXCD-65
Organ: 1760 I/7 Snetzler/Harrison and Harrison, Snetzler Chamber Organ, Eton College, Windsor, England
Sheetmusic: PDF
Title: The Ways Of Sion Do Mourn Choir of Gonville and Caius College, Cambridge
Composer: Michael Wise
Organist: Thomas Hewitt Jones
Album: Michael Wise: Sacred Choral Music – Delphian DCD 34041
Organ: 1980 II/32 Mander, University of Cambridge, Pembroke College Chapel, Cambridge, England
Sheetmusic: PDF
Title: Trumpet Voluntary in D, no. 1
Composer: William Boyce
Organist: Thomas Trotter
Album: A Shropshire Idyll – Regent REGDVD002
Organ: 1764 IV/52 Snetzler/JW Walker, St. Laurence's Church, Ludlow, England
Sheetmusic: Purchase sheetmusic
Title: Concerto no. 1 in B-flat major, op. 7 – V. Organo ad libitum – Adagio, VI. Bourrée – Allegro (HWV 306)
Composer: GF Handel
Organist: Simon Preston
Album: Handel Complete Organ Concertos – Arkiv 289 469 358-2
Organ: 1789 III/29 Green/Bird, St.John the Baptist, Armitage, England
Title: Largo, Allegro, Aria, and Two Variations arr. Thalben-Ball
Composer: Michael Christian Festing
Organist: Douglas Guest
Album: EMI Great Cathedral Organ Series, Vol 4 – Amphion PHI CD 163
Organ: 1937 IV/84 Harrison and Harrison, Westminster Abbey, London, England
Sheetmusic: Purchase sheetmusic
Calendar
Title: Three settings of Clarifica Me Pater – III
Composer: William Byrd
Organist: Jonathan Ryan
Album: A Cathedral's Voice – Raven OAR-941
Organ: 2011 III/55 Parkey, Cathedral of St. John Berchmans, Shreveport, Louisiana, USA
Title: Voluntary in A minor Introduction, Fugue – Allegro
Composer: James Nares
Organist: Robert Woolley
Album: Handel And His English Contemporaries – Regent REGCD382
Organ: 1766 II/20 Parker/Goetz and Gwynne, Church of St. Mary and St. Nicholas, Leatherhead, England