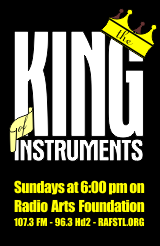 The King of Instruments is a one-hour show airing Sunday evenings at 6:00pm on Classic 107.3 FM in St. Louis. It is a joint production of the St. Louis AGO and the Organ Media Foundation. Hear it in the St. Louis region on 107.3 FM, 96.3 HD2, or you can listen online from anywhere in the world at rafstl.org.
Email us your questions, suggetstion, requests, and comments at koi@agostlouis.org
Subscribe to our weekly calendar podcast.
Following up on our all-Bach show, an episode of all-Baroque music from Iberia, the British Isles, and Germany.
Hosts: Mark Scholtz, Bill Stein, Brent Johnson
Title: Tiento XV de Batalla
Composer: Juan Cabanilles
Organist: Robert Bates
Album: Órganos Históricos de Oaxaca, México, Vol 3 –
Organ: 1717 I/16 Chávez/Tattershall, Cathedral of Our Lady of the Assumption, Oaxaca, Mexico
Title: Tiento XXIII por Alamire
Composer: Juan Cabanilles
Organist: Francis Chapelet
Album: Historic European Organs – Baleares – Palma de Mallorca – Harmonia Mundi 1901225
Organ: 1702 II/53 Caimari/Grenzing, Monastery of Sant Agusti, Palma de Mallorca, Spain
Title: Tiento de falsas (segundo tono)
Composer: Pablo Bruna
Organist: José Suárez
Album: Organo Barroco de Tlacochahuaya – Fonca QP104
Organ: 1650 I/15 Unknown/Tattershall, Convent of San Geronimo, Tlacochahuaya, Mexico
Title: Batalha de 5° Tom
Composer: Diego da Conceição
Organist: Volodymyr Samokhvalov
Album: Música Ibérica –
Organ: 1814 I/17 Machado e Ceveira, Matriz Church, Horta, Azores, Portugal
Title: Twelve Voluntaries (1812) – Voluntary X in G
Composer: William Russell
Organist: John Kitchen
Album: William Russell Complete Organ Voluntaries – Delphian DCD 34062
Organ: 1829 III/34 JC Bishop and Son/Gotze and Gwynn, St. James Church, Bermondsey, England
Title: Voluntary in D minor
Composer: William Croft
Organist: Paul Derrett
Album: Benchmarks Vol 11 East Northamptonshire – Benchmarks Records 806811CD
Organ: 1702 III/24 Schrider/Mander, St. Mary the Virgin, Finedon, England
Title: Fantasia in Four Parts
Composer: Orlando Gibbons
Organist: Keith Wright
Album: Tudor Church Music from Durham Cathedral – OxRecs OXCD-106
Organ: 2001 I/7 Goetz and Gwynne, Durham Cathedral – The Wetheringsett Organ, Durham, England
calendar
Title: Jesus Christus, unser Heiland, de von uns den Gotteszorn wandt (2)
Composer: Nicolaus Hasse
Organist: Friedhelm Flamme
Album: Organ Works of the North German Baroque VI – CPO 777 370-2
Organ: 1724 III/52 Father/Edskes, St. Peter's Church, Melle, Germany
Title: Ciacona f-Moll
Composer: Johann Pachelbel
Organist: Edgar Krapp
Album: Papst-Benedikt-Orgel – Spektral SRL4-06002
Organ: 2006 II/40 Mathis, Collegiate Church, Regensburg, Germany