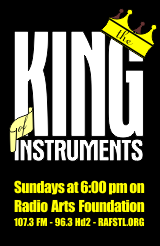 The King of Instruments is a one-hour show airing Sunday evenings at 6:00pm on Classic 107.3 FM in St. Louis. It is a joint production of the St. Louis AGO and the Organ Media Foundation. Hear it in the St. Louis region on 107.3 FM, 96.3 HD2, or you can listen online from anywhere in the world at rafstl.org.
Email us your questions, suggetstion, requests, and comments at koi@agostlouis.org
Subscribe to our weekly calendar podcast.
With the birthday of Johann Sebastian Bach fast approaching, we celebrate today with organs from Bach's time and home..
Hosts: Mark Scholtz, Bill Stein, Brent Johnson
Playlist
Title: Praeludium, Largo und Fuge C-dur (BWV 545)
Composer: JS Bach
Organist: Gottfried Preller
Album: Bach in Arnstadt –
Organ: 1703 II/28 Wender/Hoffman, St. Boniface Church, Arnstadt, Germany
Title: O Lamm Gottes, unschuldig (BWV 1095)
Composer: JS Bach
Organist: Gottfried Preller
Album: Bach in Arnstadt –
Organ: 1703 II/28 Wender/Hoffman, St. Boniface Church, Arnstadt, Germany
Title: Wenn wir in höchsten Nöthen seyn (BWV 641)
Composer: JS Bach
Organist: Bernhard Klapprott
Album: Orgelfestwoche Waltershausen – Articex ARCD 9901
Organ: 1730 III/59 Trost/Waltershausen, Stadtkirche, Waltershausen, Germany
Title: Prelude and Fugue in C major (BWV 547)
Composer: JS Bach
Organist: Gerhard Weinberger
Album: Bach: Organ Works Vol 10 – Weinberger – CPO 999 756-2
Organ: 1730 III/59 Trost/Waltershausen, Stadtkirche, Waltershausen, Germany
Title: O Mensch, bewein dein Sünde groß (BWV 622)
Composer: JS Bach
Organist: Stefano Molardi
Album: 500 Years of Organ Music, Disc 19 – Brilliant Classics 95310
Organ: 1728 II/44 Hidebrandt/Eule, St. Jacob's Church, Sangerhausen, Germany
calendar
Title: Allein Gott in der Höh sei Ehr (BWV 662)
Composer: JS Bach
Organist: Robert Clark
Album: Bach At Naumburg – Calcante CD041
Organ: 1746 III/75 Hildebrant/Eule, St. Wenzels Kirche, Naumburg, Saxony-Anhalt, Germany
Title: Prelude and Fugue in B minor (BWV 544)
Composer: JS Bach
Organist: Robert Clark
Album: Bach At Naumburg – Calcante CD041
Organ: 1746 III/75 Hildebrant/Eule, St. Wenzels Kirche, Naumburg, Saxony-Anhalt, Germany