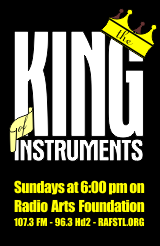 The King of Instruments is a one-hour show airing Sunday evenings at 6:00pm on Classic 107.3 FM in St. Louis. It is a joint production of the St. Louis AGO and the Organ Media Foundation. Hear it in the St. Louis region on 107.3 FM, 96.3 HD2, or you can listen online from anywhere in the world at rafstl.org.
Email us your questions, suggetstion, requests, and comments at koi@agostlouis.org
Subscribe to our weekly calendar podcast.
As preparation for the AGO program tomorrow night, we listen to some works published by MorningStar Music.
Hosts: Mark Scholtz, Bill Stein, Brent Johnson
Playlist
Title: March for a Joyous Occasion
Composer: Conrad Susa
Organist: David Higgs
Album: David Higgs premieres the CB Fisk Organ of the Meyerson Symphony Center, Dallas – Delos DE 3148
Organ: 1992 IV/82 CB Fisk, Meyerson Symphony Center, Dallas, Texas, USA
Title: A Tuscan Adagio
Composer: Franklin Ashdown
Organist: James Welch
Album: Around the World in Under Eighty Minutes – Arkay AR6169
Organ: 1986 II/21 Schoenstein, St. Elizabeth Church, San Francisco, California, USA
Title: Prelude and Passacaglia (In Festo Pentecostes)
Composer: James Woodman
Organist: Peter Sykes
Album: Modern Organ Music – Raven OAR 640
Organ: 1999 II/43 Noack, Neskirkja, Reykjavik, Iceland
Title: Solemn Prelude on a Theme of Thomas Tallis
Composer: Gerald Near
Organist: James Biery
Album: Espressivo, Music for Violin and Organ
Organ: 1963 III/42 Aeolian-Skinner, Cathedral of St. Paul, St. Paul, Minneosta
Title: Ah, Holy Jesus
Composer: Donald McCullough
Title: Largo
Composer: David Evan Verancini
Organist: James Biery
Album: Espressivo, Music for Violin and Organ
Organ: 1963 III/42 Aeolian-Skinner, Cathedral of St. Paul, St. Paul, Minneosta
Title: Variations on Veni Creator Spiritus
Composer: David Briggs
Organist: Elizabeth and Raymond Chenault
Album: 20th-21st Century Organ Music for Two, Vol 4 – Gothic G-49292
Organ: 1941 IV/103 Aeolian-Skinner/Schoenstein, St. Andrew's Episcopal Church, Amarillo, Texas, USA
Title: Concerto in C major – II. Theme and Variations New World Ensemble
Composer: Andrew Carter
Organist: Gordon Stewart
Album: Gordon Stewart plays Andrew Carter Organ Works –
Organ: 1860 IV/78 Willis, Huddersfield Town Hall, Huddersfield, England
Title: Toccata sur Deo Gratias
Composer: Richard Keys Biggs
Organist: Gilles Fortin
Album: Musique romantique et religieuse –
Organ: 1931 IV/62 Casavant, Church of St. Frederick, Drummondville, Quebec, Canada