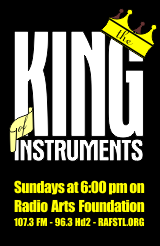 The King of Instruments is a one-hour show airing Sunday evenings at 6:00pm on Classic 107.3 FM in St. Louis. It is a joint production of the St. Louis AGO and the Organ Media Foundation. Hear it in the St. Louis region on 107.3 FM, 96.3 HD2, or you can listen online from anywhere in the world at rafstl.org.
Email us your questions, suggetstion, requests, and comments at koi@agostlouis.org
Subscribe to our weekly calendar podcast.
Tonight we have a music-filled hour of seasonal selections. Merry Christmas, and Happy New Year!
Hosts: Mark Scholtz, Bill Stein
Playlist
Title:
Ding! dong! merrily on high The Choir of York Minster
Composer:
Mack Wilberg
Organist:
David Pipe
Album:
A York Yuletide – Regent REGCD 467
Organ:
1960 IV/103 JW Walker, York Minster, York, England
Title:
Three Carols for Oboe and Organ – III. Infant Holy, Infant Lowly Alanna Rynders, oboe
Composer:
Michael Burkhardt
Organist:
Larry Visser
Album:
Every Voice In Concert Ring! –
Organ:
1996 V/108 Austin/Allen, La Grave Avenue Christian Reformed Church, Grand Rapids, Michigan, USA
Title:
Of The Father's Love Begotten The National Lutheran Choir
Composer:
Hymn
Organist:
David Cherwien
Album:
Hymns We Love to Sing – NLCA 01922
Organ:
2003 III/48 Reuter, St. Michael's Lutheran Church, Bloomington, Minnesota, USA
Title:
La Nativité
Composer:
Jean Langlais
Organist:
Paul Thornock
Album:
Thy Radiance Bright – Music For Advent And Christmas –
Organ:
2006 III/91 Fritts, St. Joseph Cathedral, Columbus, Ohio, USA
Sheetmusic:
Purchase sheetmusic
Title:
People Look East Tewkesbury Abbey Schola Cantorum of Dean Close Preparatory School
Composer:
Christopher Steel
Organist:
Carleton Etherington
Album:
A Year at Tewkesbury – Regent REGCD474
Organ:
1997 IV/83 Jones, Tewkesbury Abbey (Milton Organ), Gloucestershire, England
Sheetmusic:
Purchase sheetmusic
Title:
Interlude On God Rest You Merry, Gentlemen
Composer:
William Lloyd Webber
Organist:
Jane Watts
Album:
Organ Works of William Lloyd Webber – Priory
Organ:
1877 IV/68 Willis, Salisbury Cathedral, Salisbury, England
Title:
White Christmas
Composer:
Irving Berlin
Organist:
Elizabeth and Raymond Chenault
Album:
Christmas at Spivey Hall – Gothic G49084
Organ:
1991 III/79 Ruffatti, Spivey Hall, Clayton State University, Atlanta, Georgia, USA
Title:
Hark, the herald-angels sing
Composer:
Felix Mendelssohn
Organist:
Luke Bond
Album:
A Truro Christmas Collection – Regent REGCD 499
Organ:
1887 IV/45 Willis, Truro Cathedral, Truro, England
Title:
March Of The Toys (From Babes in Toyland)
Composer:
Victor Herbert
Organist:
Frederick Hohman
Album:
Symphomania – Pro Organo CD 7077
Organ:
1998 IV/95 Schoenstein, First-Plymouth Congregational Church, Lincoln, Nebraska, USA
Title:
Joseph est bien marié arr. John Ferris, Johanna Schlegel, Soprano
Composer:
Traditional
Organist:
Ross Wood
Album:
Candlelight Carols – London 430 456-2
Organ:
Title:
What sweeter music Choir of King's College, Cambridge
Composer:
John Rutter
Organist:
Henry Websdale
Album:
The Centenary Service – Kings College KGS0036
Organ:
1934 IV/75 Harrison and Harrison, University of Cambridge, King's College Chapel, Cambridge, England
Title:
Fantasie sur le Chant de Noël Adeste Fidelis connu aussi sous le nom de Hymne Portugals
Composer:
Jules Grison
Organist:
Peter Eilander
Album:
Christmas in Rouen – Clairon CL 2115
Organ:
1890 IV/64 Cavaille-Coll, L'abbatiale Saint-Ouen, Rouen, France
Sheetmusic:
PDF