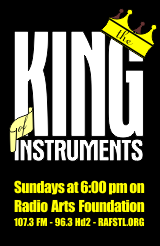 The King of Instruments is a one-hour show airing Sunday evenings at 6:00pm on Classic 107.3 FM in St. Louis. It is a joint production of the St. Louis AGO and the Organ Media Foundation. Hear it in the St. Louis region on 107.3 FM, 96.3 HD2, or you can listen online from anywhere in the world at rafstl.org.
Email us your questions, suggetstion, requests, and comments at koi@agostlouis.org
Subscribe to our weekly calendar podcast.
This week we're Living Large, with music from some of the world's largest pipe organs.
Hosts: Mark Scholtz, Bill Stein, Brent Johnson
Playlist:
Title:
Fantasia and Fugue in B-flat from 12 Pièces, op. 18
Composer:
Alexandre Boely
Organist:
Michael Dudman
Album:
Sydney Opera House Organ Extravaganza – ABC 465 649-2
Organ:
1979 V/200 Sharp, Concert Hall, Sydney Opera House, Sydney, Australia
Sheetmusic:
PDF
Title:
Praeludium in D-flat major
Composer:
Zoltán Kodály
Organist:
John Near
Album:
The Boston Years 1970-1985 – Raven OAR 620
Organ:
1952 IV/241 Aeolian-Skinner/Phelps, First Church of Christ Scientist, Boston, Massachusetts, USA
Title:
Allegro vivace de la Première Symphonie, op. 14
Composer:
Louis Vierne
Organist:
Massimo Nosetti
Album:
Louis Vierne – 3eme Symphonie et oeuvres choisies – Syrius 141426
Organ:
1949 V/220 Tamburini, Cathedral of Messina, Messina, Italy
Sheetmusic:
PDF
Purchase sheetmusic
Title:
Noel Variations, O Run, Ye Shepherds
Composer:
Max Drischner
Title:
Count Your Blessings
Composer:
Dan Miller
Organist:
Dan Miller
Album:
The Calvary Grand Organ Dedication –
Organ:
1990 V/205 Moller, Calvary Church, Charlotte, North Carolina, USA
Title:
7 Organ Pieces, op. 145 – VII. Siegesfeier
Composer:
Max Reger
Organist:
Edgar Krapp
Album:
Max Reger Organ Works Volume 7 – Naxos 8.557891
Organ:
1978 V/233 Eisenbarth, St. Stephan Cathedral, Passau, Bavaria, Germany
Sheetmusic:
PDF
Purchase sheetmusic
Title:
Now Thank We All Our God
Title:
Crown Him With Many Crowns
Title:
O God, Our Help in Ages Past
Organist:
Frederick Swann
Album:
Hymns on the Crystal Cathedral Organ – Gothic G58519
Organ:
1977 V/200 Ruffatti, Garden Grove Community Church (Crystal Cathedral), Garden Grove, California, USA
calendar
Title:
Peer Gynt – Morning Mood
Composer:
Edvard Grieg
Organist:
Clay Christiansen
Album:
Organ of the Mormon Tabernacle – Klavier K11044
Organ:
1947 V/206 Aeolian-Skinner/Schoenstein, Mormon Tabernacle, Salt Lake City, Utah, USA
Title:
Prélude et Fugue sur le nom D'Alain, op. 7
Composer:
Maurice Duruflé
Organist:
Scott Dettra
Album:
Tongues of Fire – Pro Organo CD 7063
Organ:
1911 IV/325 Moller/Gress-Miles, Cadet's Chapel, West Point, New York, USA
Sheetmusic:
Purchase sheetmusic