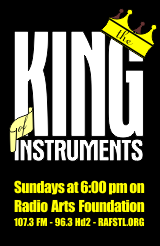 The King of Instruments is a one-hour show airing Sunday evenings at 6:00pm on the Radio Arts Foundation in St. Louis. It is a joint production of the St. Louis AGO and the Organ Media Foundation. Hear it in the St. Louis region on 107.3 FM, 96.3 HD2, or you can listen online from anywhere in the world at rafstl.org.
Email us your questions, suggestions, requests, and comments at koi@agostlouis.org
If you're not in St. Louis, but interested in having the King of Instruments on the air where you are, please send us an email for more information!
Tonight's episode is the conclusion of the Member's Recital as performed on Monday, March 25 at Third Baptist Church, as well as some live recordings made on the Friday Pipes series at Third Baptist.
This episode was sponsored by Ladue Chapel Presbyterian Church who presents John Stainer's Crucifixion on April 14th.
Hosts:
Mark Scholtz, Bill Stein, Brent Johnson
Listen here:
Organ:
1947 III/72 Kilgen/Moller/Reuter
, Third Baptist Church, St. Louis, Missouri
Playlist:
Organist:
Dawn Riske
Title:
Out of the Depths I cry to thee
Composer:
Flor Peeters
Title:
Toccata on At the Lamb's High Feast We Sing
Composer:
Paul Manz
Dawn Riske, CAGO is the Director of Music Ministries at Christ the King Church in University City, MO. She plays for Latino worship at various parishes, and teaches music at Our Lady of Guadalupe in Ferguson. Dawn, a Lutheran Deaconess, is active in the National Association of Pastoral Musicians, and is a past St. Louis American Guild of Organist Chapter Dean. January Jubilee 2018 and February Flourish 2019 have been important events for her. Dawn is playing a piece by Paul Manz, with whom she studied in Chicago (we celebrate the 100th anniversary of his birth his year); and a piece by Flor Peeters, with whom Paul Manz studied as a Fulbright scholar.
Organist: Travis Evans
Title: Meditation on the Seven Last Words of Christ – Father, Into thy hands I commit my spirit
Composer: John Huston
Title: Jesus, my Passion
Composer: Max Reger
Travis Evans is an Adjunct Faculty member at St. Charles Community College where he teaches courses in Music History, Music Theory, Conducting, Music Typography, and private organ and piano lessons. He is an Adjunct Faculty member at Lindenwood University where he teaches Music Theory, he also was on the faculty at the University of Missouri – St. Louis as a Piano Specialist. In addition to his academic work, he has also served as a church musician. He is currently the Music Associate at First Presbyterian Church in Kirkwood where he oversees the handbell program, accompanies the chancel choir, serves as the assistant organist and provides support to the other facets of the music program. He is also currently serving on the Missouri Arts Council as part of a grant advisory panel for the State of Missouri. He previously served as the organist/accompanist at St. John UCC in St. Charles and prior to that was Director of Music for eighteen years for Lutheran Churches. Travis spent two seasons as the Artistic Director for the Choral Art Singers in St. Charles County.
Travis studied choral conducting with Dr. James Henry, at the University of Missouri – St. Louis, instrumental conducting with Dr. Paul Davis at Webster University, and organ with Dr. Charles Ore, the late Dr. Theodore Beck, and Dr. Barbara Harbach. He holds a Bachelor of Music in Organ Performance from the University of Missouri – St. Louis, and a Masters of Music in Organ Performance from Webster University in St. Louis where he studied with William Partridge, Canon Precentor at Christ Church Cathedral in St. Louis, where he has also volunteered as the assistant choirmaster for many of their Evensong service
Organist: Tim Jansen
Title: Carillon-Sortie
Composer: Henri Mulet
The musical diversity of Timothy Jansen spans a wide gambit of interests from his latest operatic-musical ARIA to his bold Russianesque, modern-gothic Canticle Revelations, commissioned for the last Papal visit of John Paul II to The United States and was performed at the grand St Louis Cathedral Basilica during The Evening Prayer Service. He has written many other works for the St Louis Cathedral Basilica which have been performed at over a hundred Masses and Ceremonies at The Cathedral Basilica. As a Concert Pianist, Mr. Jansen has recently performed at The Sheldon Concert Hall, The St Louis Central Library, The Ethical Society of St Louis, The Chapel, Christ Church Cathedral, Peace Lutheran Church, Friends of Music Concert Series at Eliot Chapel and The Tavern of Fine Arts. He has performed frequently for The St Louis Pro Musica. As an Organist, he has performed the complete works of Cesar Franck, Felix Mendelssohn, Maurice Durufle and all the major works of Franz Liszt. He was a formed sub-dean for The St Louis Chapter of the American Guild of Organists. He is one of the few artists in the world to have many recordings of both piano and organ virtuoso masterpieces on YouTube including the Rachmaninoff Second Piano Sonata and the Dupre Variations on Noel. He is a published composer through both Alliance and Morning Star Publications. His students have won national competitions, performed with orchestra and have gone on to further their musical careers as both pianists and conductors. He is currently in pursuit of an underwriter and producer for his magical operatic musical ARIA. Tim is the Music Director and Organist at Saint Anthony of Padua, a Franciscan run parish in St Louis, Missouri.
calendar
Title: Processional to Calvary from The Crucifixion
Composer: John Stainer
Album: The Crucifixion – Naxos 8.5576426
Organist: Mark Scholtz
Title: Grand March from Aida
Composer: Giuseppe Verdi
Recorded live in concert, November 6, 2015
Organist: Mark Gifford
Title: Improvisation on Themes from the Sound of Music
Recorded live in concert, October 16, 2015
Organist: Scott Montgomery
Title: Sonata no. 8 – Scherzo
Composer: Felix Alexandre Guilmant
Recorded live in concert September 23, 2016
Organist: Bill Stein
Title: Fiat Lux
Composer: Théodore Dubois
Recorded live in concert November 22, 2014
Organist: Brent Johnson
Title: Seven Pieces – VII. Final
Composer: Marcel Dupré
Recorded live in concert October 23, 2015