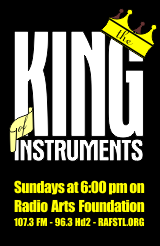 The King of Instruments is a one-hour show airing Sunday evenings at 6:00pm on Classic 107.3 FM in St. Louis. It is a joint production of the St. Louis AGO and the Organ Media Foundation. Hear it in the St. Louis region on 107.3 FM, 96.3 HD2, or you can listen online from anywhere in the world at rafstl.org.
Email us your questions, suggetstion, requests, and comments at koi@agostlouis.org
We kick off March with a series of episodes based around the letter H. Today's it's Hooks, Holtkamps, and Hills (and other builders that start with H).
Hosts:
Mark Scholtz, Bill Stein, Brent Johnson
Playlist:
Title:
Candide Overture arr. Philip Scriven
Composer:
Leonard Bernstein
Organist:
Philip Scriven
Album:
Piping Blues – Regent REGCD304
Organ:
1861 IV/96 Holdich/Hill, Norman and Beard, Cathedral of the Blessed Virgin Mary and St. Chad, Lichfield, England
Title: Prelude on Hyfrydol
Composer: Ralph Vaughan Williams
Organist: Stephen Schnurr
Album: Historic Organs of Louisville – OHS OHS-93
Organ: 1912 II/7 Hinners, St. Anthony Medical Center, Louisville, Kentucky, USA
Sheetmusic: PDF Purchase sheetmusic
Organ Media Foundation videos about Hinners organs:


Title: Prelude and Fugue in C major (BWV 545)
Composer: JS Bach
Organist: Robert Clark
Album: Bach At Naumburg – Calcante CD041
Organ: 1746 III/75 Hildebrant/Eule, St. Wenzels Kirche, Naumburg, Saxony-Anhalt, Germany
Sheetmusic: PDF Purchase sheetmusic
Title: Andante with Variations
Composer: Felix Mendelssohn
Organist: Ray Cornils
Album: Historic Organs of Maine – Organ Historical Society OHS-92
Organ: 1893 II/29 Hook and Hastings, St. Patrick RC Church, Lewiston, Maine, USA
Title: Rondo-Caprice, op. 35
Composer: Dudley Buck
Organist: James Hammann
Album: Dudley Buck Organ Music – Raven OAR-916
Organ: 1863 IV/31 E and GG Hook/Quimby, St. John's Episcopal Church, Quincy, Illinois, USA
Sheetmusic: PDF
Title: Thème et Variations from Hommage à Frescobaldi
Composer: Jean Langlais
Organist: Todd Wilson
Album: Great French Virtuosic Organ Music – Delos DE 3123
Organ: 1988 IV/86 Holtkamp, University of Alabama Frank Moody Music Building Concert Hall, Tuscaloosa, Alabama, USA
Sheetmusic: Purchase sheetmusic
calendar
Title: Rondo Capriccio (A Study in Accents)
Composer: Edwin H Lemare
Organist: Thomas Trotter
Album: Restored To Glory – Regent REGCD265
Organ: 1837 V/112 Hill/Mander, Birmingham Town Hall, Birmingham, England
Sheetmusic: Purchase sheetmusic
Title: Solemn Melody
Composer: Henry Walford Davies
Organist: Christopher Herrick
Album: Organ Dreams – Hyperion CDA67060
Organ: 1954 IV/70 Harrison and Harrison, The Temple Church, London, England
Sheetmusic: PDF Purchase sheetmusic
Title: Concert Variations on The Star Spangled Banner
Composer: John Knowles Paine
Organist: Bruce Stevens
Album: Historic Organs Of Connecticut – Organ Historical Society OHS-94
Organ: 1871 III/55 E and GG Hook, St. Mary's Church, New Haven, Connecticut, USA
Sheetmusic: Purchase sheetmusic