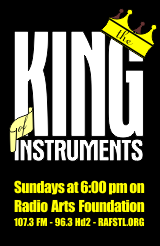 The King of Instruments is a one-hour show airing Sunday evenings at 6:00pm on Classic 107.3 FM in St. Louis. It is a joint production of the St. Louis AGO and the Organ Media Foundation. Hear it in the St. Louis region on 107.3 FM, 96.3 HD2, or you can listen online from anywhere in the world at rafstl.org.
Email us your questions, suggetstion, requests, and comments at koi@agostlouis.org
This Sunday marks 210 years since the birth of Felix Mendelssohn, so we're spending the hour with Mendelssohn and Friends.
Hosts:
Mark Scholtz, Bill Stein, Brent Johnson
Playlist:
Title:
Sonata in A major, op. 65, no. 3
Composer:
Felix Mendelssohn
Organist:
Andrew Shenton
Album:
Virtuoso – Ethereal Recordings ER-119
Organ:
1928 IV/135 EM Skinner/Mander, Princeton University Chapel, Princeton, New Jersey, USA
Sheetmusic:
PDF
Purchase sheetmusic
Title: The War March of the Priests from 'Athalie'
Composer: Felix Mendelssohn
Organist: Thomas Trotter
Album: The Grand Organ of Birmingham Town Hall – CDA66216
Organ: 1837 V/112 Hill/Mander, Birmingham Town Hall, Birmingham, England
Sheetmusic: PDF Purchase sheetmusic
Title: Tonstucke, op. 22
I. Moderato – [ ] – Tempo I – Adagio
II. Allegretto
III. Allegretto con fuoco

Composer: Niels Gade
Organist: Iain Quinn
Album: Tender is the North – Chandos CHAN 10581
Organ: 1962 IV/95 Harrison and Harrison, Coventry Cathedral, Coventry, England
Sheetmusic: PDF Purchase sheetmusic
Title: Prelude for Organ in F major Edited by Barbara Harbach
Composer: Fanny Mendelssohn
Organist: Brenda Lynne Leach
Album: Windswept – Pro Organo CD 7237
Organ: 2002 IV/89 Berghaus, St. Stephen's Episcopal Church, Wilkes-Barre, Pennsylvania, USA
Title: Prelude and Fugue no. 1 in C minor, op. 37
Composer: Felix Mendelssohn
Organist: Angela Kraft Cross
Album: Felix Mendelssohn – A 200th Birthday Album – Compass Audio CA7125
Organ: 1801 III/20 Pike, St. Margaret Lothbury, London, England
Sheetmusic: PDF Purchase sheetmusic
calendar
Title: Fuge d-Moll
Composer: Felix Mendelssohn
Organist: Peter Planyavsky
Album: Felix Mendelssohn Bartholdy: Das Orgelwerk – Motette CD11291
Organ: 1985 III/55 Pirchner, St. Augustin, Perchtoldsdorf, Austria
Title: Sonata No.5, D major
Composer: Felix Mendelssohn
Organist: Felix Hell
Album: Mendelssohn at Methuen – Felix Hell FHCD0504
Organ: 1947 IV/112 Aeolian-Skinner, Methuen Music Hall, Methuen, Massachusetts, USA
Sheetmusic: PDF Purchase sheetmusic