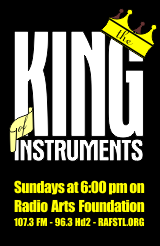 The King of Instruments is a one-hour show airing Sunday evenings at 6:00pm on Classic 107.3 FM in St. Louis. It is a joint production of the St. Louis AGO and the Organ Media Foundation. Hear it in the St. Louis region on 107.3 FM, 96.3 HD2, or you can listen online from anywhere in the world at rafstl.org.
Email us your questions, suggetstion, requests, and comments at koi@agostlouis.org
We wrap up our show today with some modern music by composers whose names all start with the letter G.
Hosts:
Mark Scholtz, Bill Stein, Brent Johnson
Playlist:
Title:
Trumpet Tune
Composer:
David German
Organist:
Dan Miller
Album:
The Calvary Grand Organ Dedication –
Organ:
1990 V/205 Moller, Calvary Church, Charlotte, North Carolina, USA
Sheetmusic:
Purchase sheetmusic
Title: Partita on a Hymntune of Tallis
Composer: Sandra Gay
Organist: Judy Congdon
Album: Love So Amazing –
Organ: 1953 III/61 Holtkamp, Wesley Chapel, Houghton College, Houghton, New York, USA
Title: Be thou my vision
Composer: Zsolt Gárdonyi
Organist: Philip Scriven
Album: Piping Blues – Regent REGCD304
Organ: 1861 IV/96 Holdich/Hill, Norman and Beard, Cathedral of the Blessed Virgin Mary and St. Chad, Lichfield, England
Title: Toccata
Composer: Patrick Gowers
Organist: Christopher Hughes
Album: The Organs of Eton College, Vol 1 – OxRecs OXCD-65
Organ: 1885 IV/63 Hill/Mander, Eton College Chapel, Windsor, England
Title: Jig (no. 3 of Five Dances)
Composer: John Linton Gardner
Organist: Martin Setchell
Album: A Taste of Shropshire – English Music from Ludlow – Quantum QM 7041
Organ: 1764 IV/52 Snetzler/JW Walker, St. Laurence's Church, Ludlow, England
Title: Toccata pour l'Élévation
Composer: Jean Giroud
Organist: Jan Von Hassel
Album: Couleurs d'Orgue – Spektral SRL4-10079
Organ: 1846 IV/82 Cavaillé-Coll, Eglise de la Madeleine, Paris, France
calendar
Title: Pastorale from Sonata no. 1 in D minor
Composer: Felix-Alexandre Guilmant
Organist: Jonathan Hall
Album: In Perfect Peace –
Organ: 1880 III/35 Odell, St. Charles Borromeo, Brooklyn, New York, USA
Sheetmusic: PDF Purchase sheetmusic
Title: Sonata de chiesa – I. Arioso, László Simai, Trumpet, Péter Burget, Trombone
Composer: Zsolt Gárdonyi
Organist: István Ruppert
Album: Hungarian Organ Music – Do-Lá DLCD 073, DLCD 175
Organ: 1999 III/54 Aquincum , Szombathely Cathedral, Szombathely, Hungary
Sheetmusic: Purchase sheetmusic
Title: Preludio y Postludio
Composer: Norberto Guinaldo
Organist: Carlos Cappellaro
Album: Organo Argentino – Toccata TRR 99022
Organ: 1903 III/0 Hauptwerk, Notre Dame, Metz, France