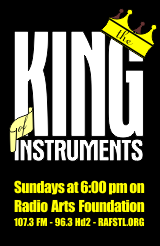 The King of Instruments is a one-hour show airing Sunday evenings at 6:00pm on Classic 107.3 FM in St. Louis. It is a joint production of the St. Louis AGO and the Organ Media Foundation. Hear it in the St. Louis region on 107.3 FM, 96.3 HD2, or you can listen online from anywhere in the world at rafstl.org.
Email us your questions, suggetstion, requests, and comments at koi@agostlouis.org
We celebrate the birthdays of two British organists today, as well as prepare for Monday's AGO program of Hymn playing. It's Healey, Herbert, and Hymns this week on the King of Instruments.
Hosts:
Mark Scholtz, Bill Stein, Brent Johnson
Playlist:
Title:
Introduction, Passacaglia et Fugue
Composer:
Healey Willan
Organist:
David Baskeyfield
Album:
David Baskeyfield – Oeuvres pour orgue – Atma Classique ACD2 2719
Organ:
1955 IV/119 Casavant, St. Paul's Anglican Church, Toronto, Canada
Sheetmusic:
PDF
Purchase sheetmusic
Title: Aus 36 Short Preludes and Postludes on Well-known Hymn Tunes – Rockingham
Composer: Healey Willan
Organist: Felix Hell
Album: Orgelgiganten – Organ ORG 7010 2
Organ: 1954 IV/154 Schantz, Cathedral Basilica of the Sacred Heart, Newark, New Jersey, USA
Sheetmusic: Purchase sheetmusic
Title: Six Pieces for the Organ 4. Fugue, Chorale and Epilogue
Composer: Herbert Howells
Organist: Robert Benjamin Dobey
Album: Herbert Howells and the Organ: The 30s and 40s – Pro Organo CD 7005
Organ: 1892 III/48 Roosevelt/Schantz, Cathedral of the Immaculate Conception, Syracuse, New York, USA
Sheetmusic: Purchase sheetmusic
Title: All my hope on God is founded (Michael)
Composer: Herbert Howells
Organist: Stephen Tharp
Album: Hymns Old And New – JAV JAV 162
Organ: 1931 IV/76 EM Skinner, Cathedral of Our Lady, Queen of the Most Holy Rosary, Toledo, Ohio, USA
Sheetmusic: Purchase sheetmusic
Title: I Love Thy Kingdom, Lord
Composer: Healey Willan
Organist: Marilyn Kay Stulken
Album: Historic Organs of Baltimore – OHS OHS-91
Organ: 1897 II/15 Henry Niemann/Storey, Old Otterbein United Methodist Church, Baltimore, Maryland, USA
Title: Hymn Prelude on Gelobet sei Gott
Composer: Healey Willan
Organist: Douglas Marshall
Album: Epiphany Opus One –
Organ: 2003 III/0 Marshall and Ogletree, Trinity Wall Street, New York City, New York, USA
calendar
Title: Master Tallis's Testament from Six Pieces for Organ
Composer: Herbert Howells
Organist: Susan De Kam
Album: Dominant Accord – Pro Organo CD 7248
Organ: 2009 III/49 Kegg, Zion Lutheran Church, Wausau, Wisconsin, USA
Sheetmusic: Purchase sheetmusic
Title: O Traurigkeit, o Herzeleid
Composer: Healey Willan
Organist: John Ayer
Album: The Art of the Chorale – Pro Organo CD 7064
Organ: 1990 III/64 Nichols and Simpson, Christ Episcopal Church, Little Rock, Arkansas, USA
Title: Aus 36 Short Preludes and Postludes on Well-known Hymn Tunes – Bishopthorpe
Composer: Healey Willan
Organist: Felix Hell
Album: Orgelgiganten – Organ ORG 7010 2
Organ: 1954 IV/154 Schantz, Cathedral Basilica of the Sacred Heart, Newark, New Jersey, USA
Sheetmusic: Purchase sheetmusic
Title: Chorale Prelude on St. Anne
Composer: Healey Willan
Organist: Scott Bennett
Album: Alla Rumba! – Pro Organo CD 7172
Organ: 1952 IV/68 Reuter, Grace Episcopal Church, Charleston, South Carolina, USA
Sheetmusic: Purchase sheetmusic