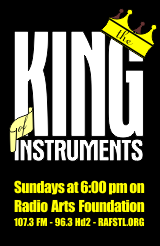 The King of Instruments is a one-hour show airing Sunday evenings at 6:00pm on the Radio Arts Foundation in St. Louis. It is a joint production of the St. Louis AGO and the Organ Media Foundation. Hear it in the St. Louis region on 107.3 FM, 96.3 HD2, or you can listen online from anywhere in the world at rafstl.org.
Email us your questions, suggestions, requests, and comments at koi@agostlouis.org
If you're not in St. Louis, but interested in having the King of Instruments on the air where you are, please send us an email for more information!
This week on the fifth Sunday of the month we listen to new CD releases. This time they're all from the
Raven
label.
Hosts:
Mark Scholtz, Bill Stein, Brent Johnson
Title: Symphony no. 7 in A minor, op. 42 no. 3 – I. Moderato
Composer: Louis Vierne
Organist: Jeremy David Tarrant
Album: Charles-Marie Widor Symphony no 7 in A minor – Raven OAR-146
Organ: 2013 III/76 Casavant, First Presbyterian Church, Kirkwood, Missouri, USA
Sheetmusic: PDF Purchase sheetmusic
Title: Prelude et Danse Fugée
Composer: Gaston Litaize
Organist: Jeremy Filsell
Album: Gaston Litaize Musique pour orgue – Raven OAR-147
Organ: 1966 III/50 Aeolian-Skinner, Church of the Epiphany, Washington, DC, USA
Sheetmusic: Purchase sheetmusic
Title: Old Folks at Home
Composer: Dudley Buck
Organist: Dongho Lee
Album: Dongho Lee, Organist – Raven OAR-143
Organ: 1971 III/64 Aeolian-Skinner/Parkey, Providence United Methodist Church, Charlotte, North Carolina, USA
Sheetmusic: PDF Purchase sheetmusic
Title: Dona Nobis Pacem
Composer: Frigyes Hidas
Organist: Damin Spritzer
Trombonist: Donald Pinson
Album: Fantasia – Music for Trombone and Organ – Raven OAR-994
Organ: 2014 III/71 Nichols and Simpson, St. Monica Catholic Church, Dallas, Texas, USA
Sheetmusic: Purchase sheetmusic
Title: Legend
Composer: Edward Cuthbert Bairstow
Organist: Adam Pajan
Album: Romantic Resonance – Raven OAR-149
Organ: 2004 IV/76 Kegg, Bascilica of St. John the Baptist, Canton, Ohio, USA
Sheetmusic: PDF
calendar
Title: Six Pieces, op. 9 – Roulade
Composer: Seth Bingham
Organist: Christopher Marks
Album: Organ Music of Seth Bingham, Vol 3 – Raven OAR 992
Organ: 1998 IV/95 Schoenstein, First-Plymouth Congregational Church, Lincoln, Nebraska, USA
Sheetmusic: Purchase sheetmusic
Title: Toccata from Symphony no. 5
Composer: Charles-Marie Widor
Organist: Ahreum Han
Album: Orpheus in the Underworld – Raven OAR-148
Organ: 1980 III/61 Casavant, First Presbyterian Church, Davenport, Iowa, USA
Sheetmusic: PDF Purchase sheetmusic