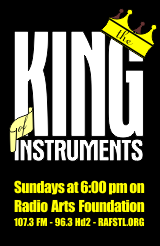 The King of Instruments is a one-hour show airing Sunday evenings at 6:00pm on Classic 107.3 FM in St. Louis. It is a joint production of the St. Louis AGO and the Organ Media Foundation. Hear it in the St. Louis region on 107.3 FM, 96.3 HD2, or you can listen online from anywhere in the world at rafstl.org.
Email us your questions, suggetstion, requests, and comments at koi@agostlouis.org
For March we return to our alphabet-themed shows, and our next stop is the letter B. We call this show the B-list and we feature 500 years of composers whose names start with the letter B.
Hosts:
Mark Scholtz, Mary Beth Wittry, Brent Johnson
Playlist:
Title:
A Fancy
Composer:
William Byrd
Organist:
Scott Montgomery
Album:
Inspirations From England – Regent REGCD309
Organ:
2001 III/53 Mander, St. Peter's Episcopal Church, St. Louis, Missouri, USA
Title: La Battaglia, Dialogo per l'organo, Bizarria 1° tono
Composer: Adriano Banchieri
Organist: Guy Bovet
Album: L'Orgue de Valere, vol 2 – Gallo CD-0281
Organ: 1435 I/10 Unknown, Valère Basilica, Sion, Switzerland
Sheetmusic: PDF
Title: Vater Unser im Himmelreich
Composer: Georg Böhm
Organist: Leon W Couch III
Album: Hamburger Rhetorik – Pro Organo CD 7166
Organ: 1985 II/35 Noack, Christ the King Evangelical Lutheran Church, Houston, Texas, USA
Sheetmusic: PDF Purchase sheetmusic
Title: Sonata I D-Dur – III. Presto
Composer: CPE Bach
Organist: Ton Koopman
Album: Orgelfestwoche Waltershausen – Articex ARCD 9901
Organ: 1730 III/59 Trost/Waltershausen, Stadtkirche, Waltershausen, Germany
Title: Andante con moto en sol mineur
Composer: Alexandre Boëly
Organist: Stuart Forster
Album: Symphonic Quest – Pro Organo CD 7228
Organ: 1998 IV/95 Schoenstein, First-Plymouth Congregational Church, Lincoln, Nebraska, USA
Title: Offertoire in G major
Composer: Antoine Edouard Batiste
Organist: Christopher Herrick
Album: Organ Dreams – Hyperion CDA67060
Organ: 1954 IV/70 Harrison and Harrison, The Temple Church, London, England
Title: Prelude on an Old Folk Tune – The Fair Hills of Eire, O
Composer: Amy Beach
Organist: Christa Rakich
Album: Deferred Voices: Organ Music by Women – AFKA SK527
Organ: 1933 III/68 Kilgen, St. Justin's Church, Hartford, Connecticut, USA
Title: Symphony pour orgue – Allegro
Composer: Edward Shippen Barnes
Organist: Simon Nieminski
Album: The Organ Symphonies of Edward Shippen Barnes – Pro Organo CD 7131
Organ: 1937 III/57 Wicks, St. Mary's Cathedral, Peoria, Illinois, USA
Sheetmusic: PDF
calendar
Title: Les Elfes, op. 7 no. 11
Composer: Joseph Bonnet
Organist: Michael Eckerle
Album: Wein und Wasser – Motette CD 12631
Organ: 1901 III/49 Schwarz, Salem Abbey, Salem, Germany
Sheetmusic: PDF Purchase sheetmusic
Title: Chorale Prelude on God Himself is With Us
Composer: Roberta Bitgood
Organist: Frances Nobert
Album: Music, She Wrote: Organ Compositions by Women – Raven OAR 550
Organ: 1998 III/81 Glatter-Gotz/Rosales, United Church of Christ, Congregational, Claremont, California, USA
Title: Danse Diabolique
Composer: George Baker
Organist: Stephen Tharp
Album: The St James Recital – Acis APL31995
Organ: 2010 IV/78 Schoenstein, St. James Episcopal Church, New York, New York, USA