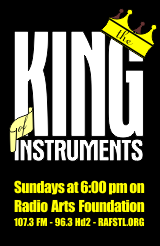 The King of Instruments is a one-hour show airing Sunday evenings at 6:00pm on the Radio Arts Foundation in St. Louis. It is a joint production of the St. Louis AGO and the Organ Media Foundation. Hear it in the St. Louis region on 107.3 FM, 96.3 HD2, or you can listen online from anywhere in the world at rafstl.org.
Email us your questions, suggestions, requests, and comments at koi@agostlouis.org
If you're not in St. Louis, but interested in having the King of Instruments on the air where you are, please send us an email for more information!
This week we start the new year at the top of the alphabet with the letter A: Alleluia! We hear musical depictions of this expression of praise and joy.
Hosts:
Mark Scholtz, Bill Stein, Brent Johnson
Playlist
Composer:
Victor Togni
Organist:
Maxine Thévenot
Album:
Without Boundaries – Raven OAR 890
Organ:
2002 III/65 Reuter, Cathedral of St. John, Albuquerque, New Mexico, USA
Title: Rubrics – I. …Hallelujah has been restored…
Composer: Dan Locklair
Organist: Philip Scriven
Album: Sounds of Cranleigh – Regent REGCD398
Organ: 2010 III/39 Mander, Cranleigh School, Cranleigh, England
Sheetmusic: Purchase sheetmusic
Title: Epiphany Alleluias St John Episcopal Cathedral Choir
Composer: John Weaver
Organist: Eric Plutz
Album: Sing We Merrily – Delos DE3125
Organ: 1938 IV/96 Kimball, St. John's Cathedral, Denver, Colorado, USA
Title: Largo and Hallelujah for violin and organ, op. 76 Robert Murray, violin
Composer: Stanley Weiner
Organist: Ardyth Lohuis
Album: Works for Violin and Organ, Vol 1 – Raven OAR 200
Organ: 1950 IV/75 Aeolian-Skinner, St. Stephen's Episcopal Church, Richmond, Virginia, USA
Title: Fantasy on Hallelujah! Gott zu loben
Composer: Max Reger
Organist: Ken Cowan
Album: The Austin Organ – Austin Organs AO101-CD
Organ: 1998 IV/50 Austin, St. Mary's College Chapel, Moraga, California, USA
Sheetmusic: PDF Purchase sheetmusic
calendar
Title: In Festo Corporis Christi – Post Benedictionem (Lauda Sion)
Composer: Anton Heiller
Organist: Peter Sykes
Album: Modern Organ Music – Raven OAR 640
Organ: 1999 II/43 Noack, Neskirkja, Reykjavik, Iceland
Title: Allelujah! Laudamus Te, Dallas Wind Symphony
Composer: Alfred Reed
Organist: Paul Riedo
Album: Pomp and Pipes! – Reference RR-58CD
Organ: 1992 IV/82 CB Fisk, Meyerson Symphony Center, Dallas, Texas, USA