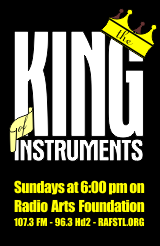 The King of Instruments is a one-hour show airing Sunday evenings at 6:00pm on Classic 107.3 FM in St. Louis. It is a joint production of the St. Louis AGO and the Organ Media Foundation. Hear it in the St. Louis region on 107.3 FM, 96.3 HD2, or you can listen online from anywhere in the world at rafstl.org.
Email us your questions, suggetstion, requests, and comments at koi@agostlouis.org
This Sunday is a very special episode. We celebrate both our 100th episode and the arrival of the new year with celebratory music and works for the season. Join us for the milestone in St. Louis music history. Happy New Year!
Hosts:
Mark Scholtz, Bill Stein, Mary Beth Wittry, David Erwin, Brent Johnson
Playlist
Title:
Concertino – III. Celebration
Composer:
Douglas Major
Organist:
Jeremy Filsell
Album:
Americana – Raven OAR-942
Organ:
1963 IV/186 EM Skinner/Aeolian-Skinner, National Cathedral, Washington, DC, USA
Title: Magnificat – Six versets en forme de variations, op. 10 no. 7
Composer: Joseph Bonnet
Organist: Jacques Boucher
Album: Widor and Bonnet – Eglise de Gesu, Montreal – REM Editions REM311162
Organ: 1986 IV/87 Casavant/Guilbault-Therien, Eglise du Gesu, Montréal, Quebec, Canada
Sheetmusic: PDF Purchase sheetmusic
Title: The Happy Breed – II. Cocktails and pedals
Composer: Dick Hyman
Organist: Benjamin Saunders
Album: Gracious Groove – Pro Organo CD 7269
Organ: 1904 IV/55 Norman and Beard/Klais, Leeds Cathedral, Leeds, England
Title: Wachet auf, ruft uns die Stimme (BWV 645)
Composer: JS Bach
Organist: Marcel Dupré
Album: Mercury Living Presence vol 6 – Bach – Mercury 478 8392
Organ: 1862 V/128 Cavaillé-Coll, Church of St. Sulpice, Paris, France
Sheetmusic: PDF Purchase sheetmusic
Title: Organ Concerto No. 1 in F major, op. 137 – I. Maestoso, Amadeus Orchestra
Composer: Josef Gabriel Rheinberger
Organist: Paul Skevington
Album: Rheinberger: Organ Concertos Nos 1 and 2 – Naxos 8.557787
Organ: 1998 III/61 Steiner-Reck, St. Luke Catholic Church, McLean, Virginia, USA
Sheetmusic: Purchase sheetmusic
Title: Jingle Bells The Choir of York Minster, arr. Richard Shephard
Composer: James Pierpont
Organist: David Pipe
Album: A York Yuletide – Regent REGCD 467
Organ: 1960 IV/103 JW Walker, York Minster, York, England
Title: II. Cantiléne from Suite Brève
Composer: Jean Langlais
Organist: Frederick Hohman
Album: Pageantry and Poetry – Pro Organo CD 7280
Organ: 2014 IV/59 Reuter, Cathedral of the Immaculate Conception, Springfield, Illinois, USA
Sheetmusic: Purchase sheetmusic
Title: Andante in C major from Sonata for Unaccompanied Violin no. 2 in A Minor (BWV 100)
Composer: JS Bach
Organist: David Spicer
Album: Vintage Spicer – Pro Organo CD 7132
Organ: 1963 IV/63 Austin, Wayne Presbyterian Church, Wayne, Pennsylvania, USA
Title: Toccata in F
Composer: Jules Grison
Organist: Martin Setchell
Album: The Rieger Organ of Christchurch Town Hall, New Zealand – Priory PRCD 1031
Organ: 1997 III/42 Rieger, Christchurch Town Hall, Christchurch, New Zealand
Sheetmusic: PDF Purchase sheetmusic
Title: Fiesta! – I. Celebration
Composer: Iain Farrington
Organist: Philip Scriven
Album: Piping Blues – Regent REGCD304
Organ: 1861 IV/96 Holdich/Hill, Norman and Beard, Cathedral of the Blessed Virgin Mary and St. Chad, Lichfield, England
Sheetmusic: Purchase sheetmusic
Title: Variations on Auld Lang Syne, op. 30
Composer: Eugene Thayer
Organist: Simon Nieminski
Album: The Organ at the Grand Lodge – Pro Organo CD 7240
Organ: 1913 III/33 Brindley and Foster/Forth, Freemason's Hall, Edinburgh, Scotland
Sheetmusic: Purchase sheetmusic